Young Afghan women are being trained as midwives as the country has one of the highest maternal mortality rates in the world.
In a small village surrounded by velvety white mountains with snow-capped peaks. Afghan province of BamiyanAziza Rahimi mourns her little son, whom she lost last year after an agonizing, unmedicated birth.
"It was too hard for me when I lost my baby. As a mother, I carried a baby in the womb for nine months, but then I lost it, it's too painful," said 35-year-old Rahimi.
The rugged and remote beauty of the village in the Foladi Valley of Bamiyan comes with deadly obstacles for pregnant mothers. The narrow road leading to the village with few cars is sometimes blocked by snow, cutting off access to hospitals, clinics and trained health workers.
However, a potentially life-saving improvement is on the way. The village of Rahimi is one of several in the vicinity of Bamiyan that have sent 40 young women to study as midwives for two years in the provincial capital, after which they will return home.
Lockdown can be a death sentence for any difficult birth, doctors and aid workers say, contributing to Afghanistan's extremely high maternal and infant mortality rates, among the highest in the world.
AFGHAN MIDWISE DREAMING TO BE A DOCTOR LOST JOB UNDER TALIBAN RULE
The United Nations estimates that an Afghan woman dies every two hours during pregnancy and childbirth, making Afghanistan's maternal mortality rate the highest in Asia.
The midwife internship program was initiated United Nations Refugee Agency (UNHCR) with the Watan Social and Technical Services Association, a local charity. They hope to expand the program, which is also taking place in the neighboring province of Daikundi.
Since taking power in 2021, the Taliban authorities have banned women from entering universities and most charitable work, but they have made exceptions in the health sector, and UNHCR says local health authorities are backing the project.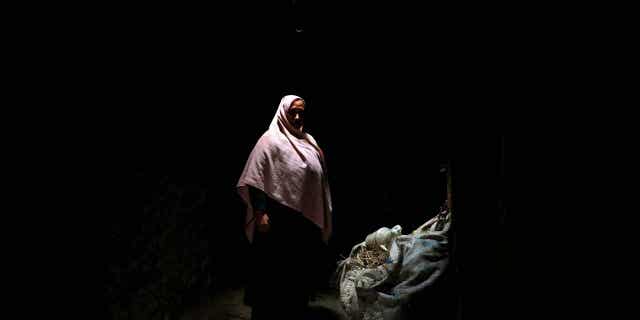 donkeys
"Of course, when the roads are closed, there are no vehicles, people even use donkeys to transport patients to health centers, but sometimes even that is not possible," said Mohammad Ashraf Niazi, head of the UNHCR office in Bamiyan. .
Rahimi, who has five other children, said riding a donkey was out of the question when she was shaking with pain in the middle of the night four months ago when she was nine months pregnant. Confused and bleeding for two hours to her in-laws' home after her husband couldn't find a car or ambulance to take them to the hospital, she gave birth there.
TALIBAN RULE WILL BE 'LONG SLOW DEATH' FOR WOMEN, SAYS LARA LOGAN
The child died shortly thereafter. The ambulance arrived too late.
The situation is quite different for women in labor at Bamiyan's main city hospital, where trainee midwives work alongside staff and, with the help of a trainer, learn how to assess and refer pregnant women, deliver babies and provide postnatal care.
"We want to learn and serve the people of our village," said one 23-year-old trainee who walks two hours every day to the hospital. UNHCR asked the interns not to be identified for security reasons.
In a small hospital clinic where dozens of women are waiting outside, a trainee midwife guides a woman through an image book about what to expect when preparing for childbirth under the watchful eye of two trained health professionals.
CLICK HERE TO GET THE FOX NEWS APP
Women at risk of complications are admitted to the maternity ward in an adjacent building, where another trainee midwife measures the blood pressure of a pregnant patient suffering from infection. She regularly visits a woman who gave birth six hours ago, with her little daughter nestled next to her.
Many trainee midwives, some of whom have small children of their own, face logistical and financial challenges, often having to travel great distances or live far from home to participate in the program.
"At first I didn't want to study nursing or be a midwife, but after I faced problems and pain during pregnancy, I had a desire to study midwifery," said a 20-year-old intern, mother of an 18-month-old son who tried hard to get access to care in his village. She said many women and families in remote areas do not have the information and support they need to prepare for a safe birth.
"We have to change that kind of thinking… I want to go to remote areas to treat women who are in trouble."