Willem Dafoe reveals why he's ready to return as the Green Goblin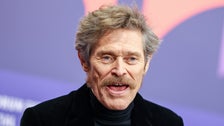 Dafoe played the Green Goblin in the 2002 film "Spidermanand again in the 2021 film Spider-Man: No Way Home explained his feelings about his iconic performance as a villain during interview with inversion published this week.
"I mean, it's a great role," Dafoe said.
"I liked that both times it was a double role. Twenty years ago and more recently both times [were] very different experiences, but I had a good time on both."
Dafoe, who starred in the recently released film Inside, has been open about his love for the role in the past.
"That's how I got the part, I had to fight for the part," Dafoe said.
"My friends are like, 'Really? Are you going to make a cartoon? Some of them were snobbish about it, but I thought, "No, that's going to be cool, that's interesting." Movies based on comics were not commonplace. It looked like something new."
"There are a couple of scenes that still make me laugh because they are so double-edged and they are either heavy or stupid. And the film is full of it."