Weeks after massive pro-EU protests, Georgians wonder what's next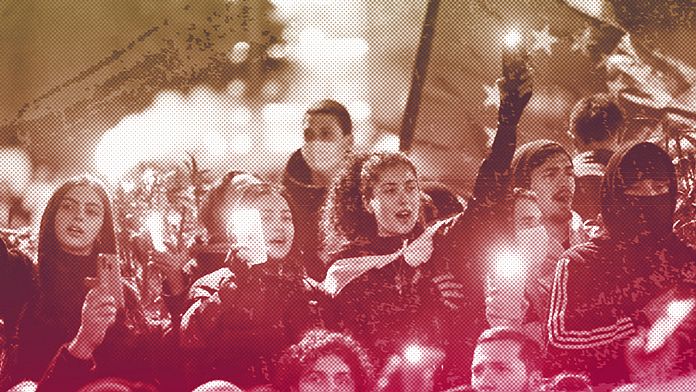 The views expressed in this article are those of the author and do not in any way reflect the position of the editors of Euronews.
In recent years, in my hometown of Tbilisi, there have been perhaps more than necessary mass political protests – some peaceful, others less.
Many of them were somehow touched by the big geopolitical issue that we live in Georgia every day.
What is our relationship as a small democracy-seeking state of just under 4 million people in the South Caucasus to the much larger and increasingly autocratic Russian Federation that sits on our northern border?
Just a couple of weeks ago, in three days and two nights, tens of thousands of Georgians again took to the streets to give their answer to this question.
I myself was surprised at how many of them were young; they waved EU flags in front of water cannons amid clouds of tear gas, ignoring the threat of arrest by club-wielding riot police.
They were outraged by the measures imposed by the ruling Georgian Dream, which – for the protesters – were a clear sign of rapprochement with Russia and a refusal to forge closer ties with the European Union.
We've seen this illiberal play elsewhere – and it's not good.
The protesters demanded that the government scrap a proposed new law regulating international funding for local NGOs, the latest in a government campaign against NGOs and media criticism that began to gain momentum earlier in the year.
For someone like me, who has worked with independent civil society groups in Georgia for more than two decades, the draft NGO law had obvious and ominous parallels.
This reflected similar restrictions imposed in Russia by its President Vladimir Putin in 2012, at the start of a campaign to eliminate critical groups such as Memorial, a human rights movement founded in the Soviet Union in 1989.
And we've seen this scenario before in Hungary, where Viktor Orban demonized local human rights groups for accepting foreign funds and also expanding state control over the media.
In Georgia, a similar attack on critical voices escalated after Russia's full-scale invasion of Ukraine last year, sharply heightening political tensions in a country that itself was invaded by Russia in 2008.
Initially, the government refrained from directly accusing Russia of aggression, but moved quickly in early March last year to obtain EU candidate status along with Ukraine and Moldova.
But since then, the ruling party, backed by a billionaire oligarch who made his fortune in Russia, has moved steadily to openly distance itself from Kyiv, all the while criticizing President Volodymyr Zelensky.
Coming back for water cannons and tear gas again and again
This rising tension set the stage for a massive outpouring of public anger that erupted after MPs from the ruling party approved the NGO funding bill in parliament on March 7 on first reading.
Georgian NGOs and independent media made a concerted effort to explain to the public their opposition to the bill as soon as it was passed.
It was clear that the protests were ultimately fueled more by concerns about Georgia's hopes for the EU than by concerns about NGO registration principles, with protesters, some waving Ukrainian flags, chanting "No Russian law in Georgia."
I had no idea what an extraordinary level of support the young Georgian Zer generals would receive as they returned again and again to protest in the face of water cannons and tear gas.
I think it was their participation that finally decided the fate of the bill, the withdrawal of which the government announced on March 9.
But what now?
The government seems, at least temporarily, to be confused; On March 12, Prime Minister Irakli Garibashvili gave a rambling TV interview in which he attacked Zelensky for comments sympathetic to the protests.
Garibashvili also accused the mother of imprisoned former President Mikheil Saakashvili of using a student group to brainwash young people who took part in the protests.
Meanwhile, Georgian civil society groups see the outcome of the protests only as a first step.
In the coming weeks and months, we will also redouble our efforts to ensure that the government fulfills its aspiration to become an EU candidate.
He must meet – by the end of this year – the conditions set by the EU to move forward with the process.
These steps will require a commitment to credible judicial reform, measures to tackle deep-rooted corruption, measures to support media freedom, and encourage a truly accountable government.
But they are also more than a ticket to potential EU membership for Georgia sometime in the future.
They offer what I think is what ultimately brought so many Georgians to the streets this month: the promise of a future for a truly independent and democratic Georgia, led by politicians who are not committed to their own interests, but to their interests. of all our people.
Keti Khutsishvili is the Executive Director of the Open Society Georgia Foundation, a non-governmental organization established in 1994 to support Georgia's aspirations for a democratic and open society after independence from the Soviet Union.
At Euronews, we believe that all points of view matter. Contact us at view@euronews.com to send suggestions or input and participate in the discussion.