War in Ukraine: Russia launches another wave of kamikaze drones overnight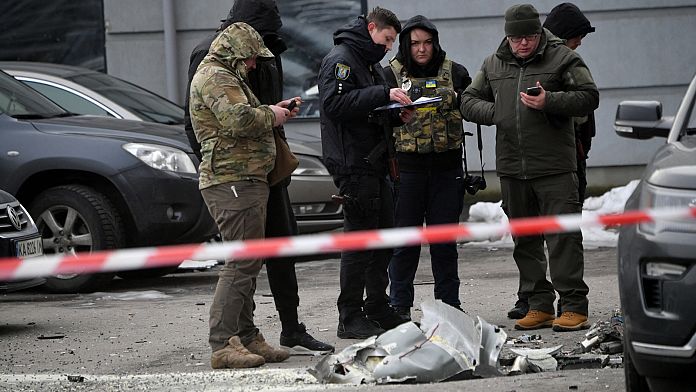 The Ukrainian Air Force said on Friday morning that Russia launched 16 kamikaze drones overnight at targets across the country, but air defenses destroyed them all, officials said.
He added that the drones were sent from the southeast and north.
Early Friday morning sirens wailed over Kyiv, and residents were urged to seek shelter in bomb shelters.
Shortly after 02:00 ET (01:00 CET), the governor of Kyiv issued a warning on social media that a "drone attack" was underway.
Witnesses 20 kilometers south of Kyiv heard several explosions and the sound of anti-aircraft fire.
Kyiv authorities said five Iranian Shahed drones were detected in the air and destroyed.
The administrative building was partially destroyed, the head of the civil military administration of Kyiv said, but there is no information about the victims yet.
Kyiv claims Iran is supplying Moscow with drones for aerial attacks, but Tehran claims it last sent drones to Russia before the start of the war.
large-scale bombing
A statement from the General Staff of the Armed Forces of Ukraine on Friday morning said that over the past 24 hours, Russia has launched 85 missile strikes, 35 air strikes and 63 multiple rocket launchers.
The report said Moscow forces also shelled 20 communities around the bombed-out town of Bakhmut in eastern Ukraine, where some of the fiercest fighting is taking place, and more than 25 communities in the Kherson and Zaporozhye regions.
Ukrainian President Volodymyr Zelensky said power outages had occurred in most of the regions affected by Thursday's massive air attack.
Areas where the loss of power was "particularly severe" included the capital Kyiv, Odessa and Kherson in the south and surrounding areas, as well as around Lvov near the western border with Poland, Zelenskiy said.
"But this is nothing compared to what could have been if it were not for our heroic anti-aircraft gunners and air defense," Zelensky said.
Thursday's video showed rescuers searching the smoldering rubble of houses in Kyiv destroyed by the blast and trails of smoke from rockets in the sky. Officials have previously said more than 120 rockets were fired during Thursday's assault.
More than 18 residences and 10 critical infrastructure facilities have been destroyed in the latest attacks, the defense ministry said in a statement.
A spate of Russian airstrikes in recent months on energy infrastructure has left millions without electricity or heating, often in sub-zero temperatures.