US, UK and Australia announce nuclear submarine deal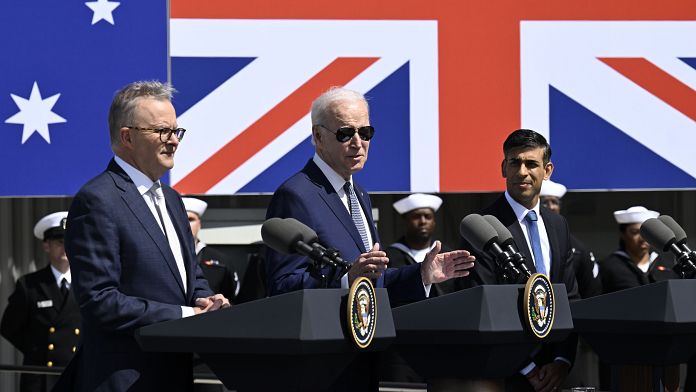 President Joe Biden and the leaders of Australia and the United Kingdom on Monday announced that Australia would buy nuclear-powered attack submarines from the US in a deal totaling about 342 billion euros to modernize its fleet amid growing concerns over Chinese influence in Indonesia. -Pacific Ocean.
"Today we are announcing steps to implement our first AUKUS project and develop the capabilities of Australian conventional nuclear submarines," President Joe Biden said at a joint press conference in San Diego.
"At the start of the next decade, Australia will receive three Virginia-class nuclear submarines from the United States. We are also proud to be partnering with the United Kingdom on the construction of the next generation submarine, which will be called SSN-AUKUS. A British-designed conventional nuclear submarine incorporating advanced technology from Australia, the UK and the US," said Australian Prime Minister Anthony Albanese.
The partnership with AUKUS, announced in 2021, paved the way for Australia's access to nuclear submarines, which are more stealthy and more capable than conventionally powered ones, as a counterweight to China's military buildup.
Biden, sensitive to tensions with China and his criticism of the deal, stressed that "they have nuclear power, not nuclear weapons."
"The AUKUS Agreement, which we reaffirm here in San Diego, represents the largest single investment in Australia's defense capabilities in our history, enhancing Australia's national security and stability in our region," Albanese said.
"Over the past 18 months, the challenge we face has only intensified. Russia's illegal invasion of Ukraine, China's growing assertiveness, Iran's and North Korea's destabilizing behavior all threaten to create a world full of danger, disorder and division. British Prime Minister Rishi Sunak.
"Faced with this new reality, it is more important than ever that we strengthen the resilience of our own countries. For the first time, the UK will waive our basic obligation to spend 2% of GDP on defense towards a new target of 2.5%," Sunak added.