Two men convicted of carrying weapons to the counting center in 2020 were given suspended sentences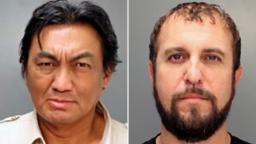 CNN
—

On Wednesday, two men were given two-year suspended sentences after being found guilty of carrying weapons into a Philadelphia counting center during the 2020 presidential vote count.
Antonio LaMotta, 63, and Joshua Macias, 44, both from Virginia, were found guilty in October on two counts of violating the Uniform Firearms Law. The two approached the Pennsylvania Convention Center on November 5, 2020. with firearms while election officials inside were counting votes in the 2020 presidential election, according to court evidence. LaMotta and Macias were also sentenced to prison terms, which were served pending sentencing.
Common Pleas Judge Lucretia Clemons stressed to LaMotta and Macias during sentencing that they were not allowed to own guns while on probation, even if they lived in another state.
"That means I don't want to see you on social media with a gun. I don't want to see you in a car with a gun. There are no weapons while you are under my care. I do this with every gun case I see," Clemons said.
Macías apologized to the judge, saying, "I will make sure this situation never happens again."
LaMotta did not go to court, but his lawyer Lauren Wimmer suggested to the judge that her client was being persecuted because of his political views – the charge was categorically denied.
Following their October 2022 conviction, Philadelphia District Attorney Larry Krasner said in a statement that LaMotta and Macias' actions would serve as a lesson.
"Let this be a lesson: You cannot illegally bring firearms to the Philadelphia election. If you commit the crime of seeking to undermine the right of the people to vote and get their votes properly counted, you will be held accountable," Krasner said.
Lamotta was also charged with four counts of misdemeanor for his alleged involvement in the attack on the US Capitol on January 6, 2021. He pleaded not guilty.