Turkish President Erdogan held a rally in Istanbul's Esenler district ahead of Sunday's elections.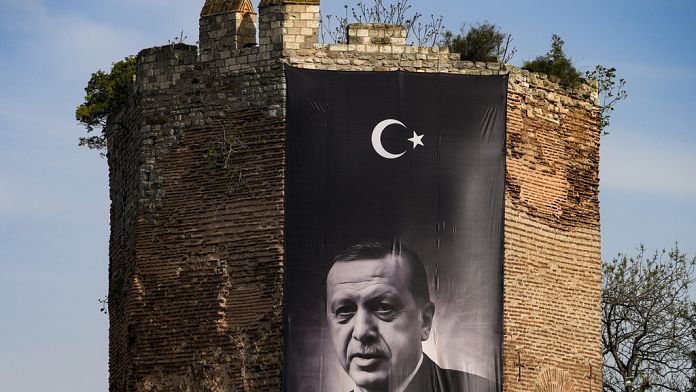 Two opposing visions of Turkey's future are on the ballot as voters return to the polls on Sunday for a runoff presidential election that will decide between an increasingly authoritarian incumbent and a challenger who has promised to restore democracy.
President Recep Tayyip Erdogan held a rally in Istanbul's Esenler district on Friday ahead of Sunday's round of presidential elections.
"Turkey has come with us to places that were previously unimaginable," he said.
Erdogan, a populist and polarized leader who has ruled Turkey for 20 years, is well on his way to victory after falling short of winning the first round of voting on May 14.
It topped the rankings even as the country suffered sky-high inflation and the aftermath of a devastating earthquake in February.
"Our country has witnessed the largest investment and development initiative in the history of our country over the past 21 years," Erdogan told the crowd on Friday.
"Our democracy has acquired the strongest positions during this period.
"During this period, the most successful fight against terrorist organizations was staged. During this period, the influence of our country in world politics also increased.
His rival, Kemal Kılıçdaroğlu, leader of Turkey's main pro-secular opposition party and six-party alliance, has campaigned promising to end Erdoğan's authoritarian leanings.
The 74-year-old former official described the second round as a referendum on the direction of a strategically located NATO nation that sits at the crossroads of Europe and Asia and has a key influence on the expansion of the alliance.
"This is an existential struggle. Türkiye will be drawn into either darkness or light," Kılıçdaroğlu said.
"This is more than an election. It has turned into a referendum."
In an attempt to sway nationalist voters ahead of Sunday's second round, the usually soft-spoken Kılıçdaroğlu shifted gears and hardened his stance, promising to send back millions of refugees if elected and rejecting any possibility of peace talks with Kurdish militants.
The Social Democrat has previously said it plans to repatriate the Syrians within two years of creating economic and security conditions conducive to their return.
He also repeatedly called on the eight million people who did not vote in the first round to vote in the decisive second round.
Erdogan won 49.5% of the vote in the first round. Kılıçdaroglu received 44.9 percent.