Trump teases tracks from his new 'Legal Defense Fund' album at 'SNL' Cold Open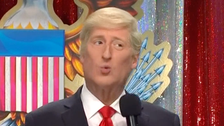 Trump Johnson opening the sketch with a nod Taylor SwiftThe "anti-hero" threw in an "April Fool's joke" and said he wouldn't annoy his base after Thursday's historic indictment.
The album included "30 classic covers, all terrible" such as "Hard to Handle" by The Black Crowes and "Ironic" by Alanis Morissette.
He also obsessed over special guests Don King (played by Kenan Thompson) for covering "Islands In The Stream" and Donald Trump Jr. (played by Mikey Day) for his cover of "Boy's a liar Pt. 2".
"Wow, dad, this is very emotional. Maybe this is the last time I see you," Day said.
"From your mouth to the ears of God," Johnson replied before they tackled Ice Spice and PinkPantheress.
For more Trump covers, see "SNLclip below.