Tom Cruise joins final 'Late Late Show' to smash 'Lion King' musical in 'Epic' Sketch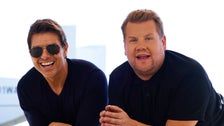 This one-of-a-kind moment reportedly happened last night when Cruz and Corden paraded in costume. This "groundbreaking" and "epic musical performance" will be just part of a two-hour finale on April 27th. Paramount said.
"For finding Pumbaa for your Timon" read the title. "And one last sketch with @tomcruise before we turn off the lights for the #LateLateShow."
"It's such a privilege to be here and I'm sorry about the news" Cruz told him. "I'm sorry you got fired."
"The Last Last Late Late Show" will air at 10 p.m. ET on April 27 on CBS and Paramount+.