The Italian government limits the recognition of parental rights to biological parents only.
Gay rights activists on Tuesday denounced as homophobic actions by Italy's far-right government, Prime Minister Giorgia Meloni, aimed at limiting the recognition of parental rights to a biological parent only in families with same-sex parents.
Hundreds of families are expected to be affected. The government has ordered the city of Milan to stop automatically registering both parents of same-sex couples on city registries. It was the last major city to continue the practice, which was briefly adopted in Rome, Turin, Naples and other places after Italian high court in 2016, it became easier for gay men to adopt a partner's biological child.
Part of the bureaucracy is key to recognizing parental rights in a number of everyday situations, such as allowing medical treatment or participating in school activities.
ASSISTANT HUMILATED IN JAPAN FOR COMMENTS AGAINST LGBT
Rainbow Families president Alessia Crochini said Rome's decision to order Milan to stop automatically registering both parents in same-sex families exposed the government's homophobia. The government has not made any official statements about this.
"This government is the ultimate expression of homophobia," she said. "Meloni says that for a child to grow up well, he needs a mother and a father, even if decades of research suggests otherwise. This is insulting to hundreds of thousands of families with two same-sex parents."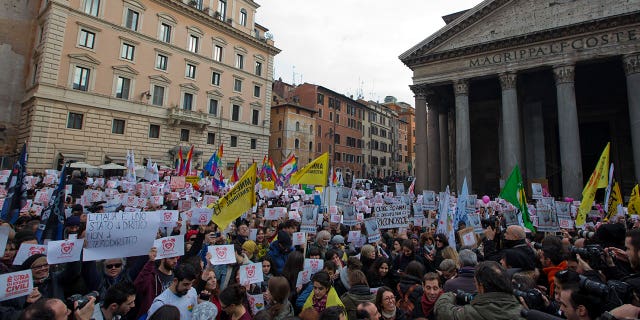 Yuri Guayana of activist group All Out said the move "throws thousands of families into limbo."
The news of the move, reported to Milan Mayor Giuseppe Sala by the state-appointed prefect, came on the same day that a Senate committee blocked an attempt to recognize birth certificates. children same-sex couples issued by other EU states.
Sala vowed to fight for a law granting equal rights to same-sex parents, but in the meantime said he couldn't risk city registry office officials disagreeing with the government's decision.
19-year-old police officer from Georgia resigns after being suspended for religious post about same-sex marriage: 'DANGEROUS PRECEDENT'
The Sala administration not only transcribed documents from other countries recognizing gay and lesbian rights parents, but also granted same-sex recognition to same-sex parents of children born in Italy.
Other cities have already ended this practice as administrations changed hands and the political winds in Rome shifted. In the absence of such recognition, the non-biological mother or father must go through the adoption process to establish parental rights, which can take years.
CLICK HERE TO GET THE FOX NEWS APP
Former Turin mayor Chiara Appendino, the first mayor to recognize the rights of both same-sex parents without court approval, said the new ban "is just the latest slap in the face for these families." She joined Sala's call for a law that would recognize their rights.
The Italian Gay Party, created in 2020 to give political weight to the fight against gay discrimination, estimates that around 150,000 children have been affected by Italy's failure to recognize the rights of both parents in same-sex marriages. Including hundreds in Milan.
Gay Party spokesman Fabrizio Marrazzo called on Italy's mayors to lift the government's demand and register both same-sex parents as a sign of civil disobedience.
"When regulations are discriminatory, mayors should have the courage to speak up," he said.