The betting industry in Europe is booming: are we ready to fight the rise of gambling addiction?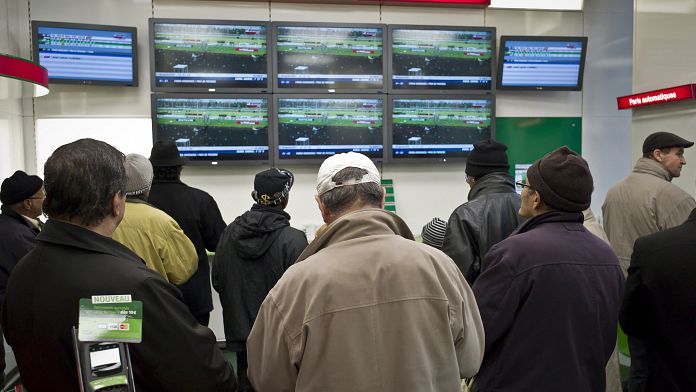 An increasing number of Europeans are suffering from gambling addiction and the problem is expected to increase across the continent as the industry's profits are expected to skyrocket in the coming years.
For Chris, his 18th birthday was more than a milestone, marking the transition from childhood to adulthood. This was the day he had been waiting for years, the day he would finally be considered old enough to legally gamble in his home country, the UK.
"I always knew that gambling would be something I would do as soon as I turned 18," Chris told Euronews. "That was what always made me the most happy, because I grew up in such a football environment."
Chris knew he wanted to bet on football matches. When his birthday came, within a few days he signed up on all the available gaming sites, taking advantage of all the offers available to beginners.
"To start with, my game was very responsible and controlled. It was small amounts of money, probably on a Saturday afternoon when football was on. Then pretty quickly it started to slowly get out of control," Chris said.
He began to make a lot more money, using credit cards to support his gambling, in all sports, including horse racing, which he said he never had an interest in.
"I gambled every second of every day," Chris said. "I went from very responsible and controlled gambling to absolute ruthlessness very quickly. It took my whole life very quickly."
The situation got so bad that within a few hours of getting his paycheck, Chris put everything on the line. He became increasingly isolated from his family and friends and developed suicidal thoughts.
Growing problem
Chris's case is not unique in the UK or Europe, where gambling addiction is a growing problem.
In the UK, it is estimated that 53% of people over the age of 16 have bet in the past year. gambling commission. About 430,000 people in the country are considered gambling addicts, and 1.85 million people are at risk of becoming addicted.
According to the latest population survey in Germany, about 1.3 million people suffer from gambling addiction, and another 3.25 million demonstrate some kind of risky gambling addiction. Other countries such as Sweden have reported a sharp increase in the number of women addicted to gambling.
More and more Europeans are suffering from gambling addiction. According to the EGBA, between 0.3% and 6.4% of adults in Europe suffer from a condition that leads to compulsive betting, although collecting accurate data is difficult due to varying national survey methods and instruments.
It is difficult to get accurate data on the number of Europeans who can be considered addicted to gambling. Gambling addiction is an under-researched area, and comparative studies across European countries are lacking, making it difficult to assess the true extent of the problem.
Experts expect the problem to worsen as the betting industry continues to thrive in the coming years.
The sports betting industry in Europe is currently valued at $44.5 million (€41.5 million). Forecasters had expected its value to reach $89.9 million (€83.9 million) by 2030. Reported by Data Bridge Market Research. This growth is not expected to be driven by the humble bookmakers dotted across the continent, which are just the tip of the betting industry iceberg, but by online gambling.
This is a legal gray area in the EU. There is no pan-European industry framework for gambling, leaving individual member states free to decide on their own regulation of online gambling. "provided that they are in conformity with the fundamental freedoms established in accordance with the Treaty on the Functioning of the European Union."
Malta, which was the first to create its own system of online gambling, is now one of the world leaders in this sector, and the industry plays a key role in the country's economy and in the lives of its people. A 2017 report found that 56% of Malta's population – roughly half a million people – over the age of 18 spent some form of money on gambling in 2015.
"Internet gambling will certainly gain popularity in the next few years," Dr. Tobias Heier from the University of Bremen in Germany told Euronews.
"This means a significant increase in incentives to gamble, as well as the risks of addiction. Due to the characteristics of online gambling events such as continuous availability 24 hours a day, 7 days a week, lack of social scrutiny, rapid event frequency and cashless payment transactions, these offerings go hand in hand with high risk potential, he said.
"In this context, we need to discuss one important question: who is responsible for responsible gambling? What are the tasks of providers, what should public authorities do, and what can be left to the forces of the market? This was reported to Euronews by Steffen Otterbach and Andrea Wöhr from the Gambling Research Center of the University of Hohenheim, Germany.
How to protect a person from gambling addiction?
In Chris' case, his parents eventually realized that he had accumulated a lot of debt, and he has since begun his journey to recovery from gambling addiction.
Chris, now 25 and 5 months without gambling, has become an advocate for raising awareness of gambling addiction. shares his experience on TikTok and through his site is NoBet.
His recovery was not easy.
"I tried my best, but when I turned on the TV, TV commercials were shown. [for gambling]. I was walking down the street, billboards depict gambling. I watched YouTube videos and 9 times out of 10 there was a casino ad. It's the same on social media, it's just everywhere. I felt trapped," he said.
According to Chris, the aggressive campaign to promote sports betting online and on the streets of our cities is doing real damage. "I think the way companies advertise is just disgusting and completely wrong," he told Euronews. "In these commercials, there is a tiny bit at the end that says, "We need to think," but this is not enough. Gambling is so highly addictive and so destructive."
In Great Britain, As of 2021, between 250 and 650 suicides per year are related to gambling.
Chris believes that the gambling industry should be forced to warn customers about the dangers of gambling addiction the way the tobacco industry warns about the risk of lung cancer associated with smoking.
Belgium went one step further by announcing in March that it would ban gambling ads on social media, television and sports stadiums.
Hyer believes that such bans should be introduced by national governments, because gambling companies will never do this on their own. "Effective player protection costs money from a provider's point of view, and hardly any private company with a revenue maximization business model is willing to put up with such revenue losses," he said.
But the regulation of the gambling industry is still in its infancy in many countries that approach this issue in different ways due to the lack of a common framework.
"We see great efforts to combat gambling addiction in selected European countries, but there is still a long way to go," said Otterbach and Wöhr. They believe that it would be useful to conduct more comparative studies on how this problem is being handled in Europe.
"A key starting point for minimizing these costs are structurally implemented preventive measures such as significant restrictions on advertising, including social media marketing, restrictions on gambling opportunities, including mandatory betting or loss limits, and a functioning oversight body," said Hyer.
"At the same time, it is necessary to improve the funding of the system of assistance, preventive measures and independent research. To sum it up: individual companies should not be allowed to profit from gambling at the expense of society."
Should the EU intervene?
Experts are unsure whether the EU should play a role in gambling regulation for all member countries.
"This is a very good question as it relates to tensions between national and pan-European legislation," said Otterbach and Wöhr. "For a layman in legal matters, it may seem preferable to have a single regulation for all EU countries. However, it is doubtful that "one size fits all" – after all, overall regulation challenges the way regulation is organized in individual countries."
"An EU-wide legal framework is certainly welcome, but that's not a very realistic scenario," Hyer said.
"Different countries have the right to regulate their national gambling market according to their interests and concerns. And Malta acts in a completely different way than, for example, Germany or Norway," he continued.
"My proposal would be to create something like a pan-European ombudsman institution for gambling. The guiding principle of this institution will always be to strengthen the protection of young people and players, and to prevent the dangers of gambling addiction."