'The Ballad Of Travis Kelce': Jimmy Fallon Spins Athlete's Old Tweets Into Rap Song
Travis Kelce's old tweets have officially become late night material.
"Travis used to tweet a lot. Nah, he wouldn't quit," rhymed Black Thought, a member of house band The Roots — before host Jimmy Fallon interjected with a typo-ridden post from Kelce about a squirrel: "I just gave a squirle a peice of bread and it straight smashed all of it!!!!"
"Now this guy's with Taylor Swift and, yeah, the two are dating," Black Thought then rapped, only for Fallon to jump back in with more of Kelce's own words: "I had no idea they ate bread like that!! Haha #crazy."
"Sometimes they were simple and sometimes they were clever," Black Thought rapped about Kelce's posts on "The Tonight Show," with Fallon proving that point with another old tweet: "haven't been to [restaurant chain Dave & Buster's] … in 4ever."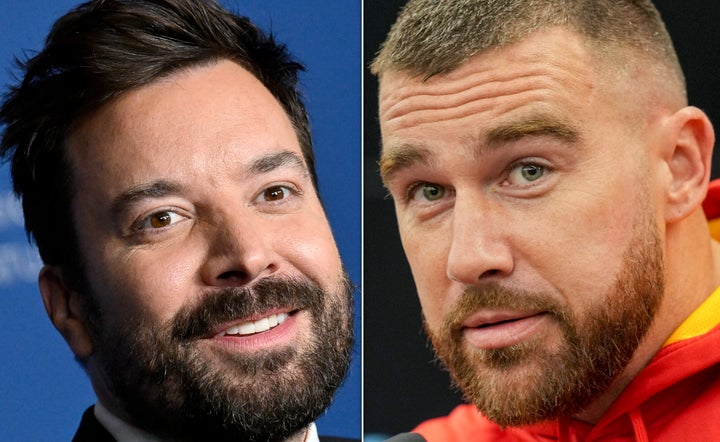 "The moon looks crazy tonight… Imma chill out here for a little and just visualize my success n vibe to the scenary," he tweeted in 2010.
On their show, Fallon and Black Thought naturally gravitated to similarly humorous posts.
"Sometimes he was really deep. The whole world he'd inspire," rapped Black Thought, before Fallon finished the couplet with another quote from the tight end: "The most powerful weapon on this earth is the human soul on fire!"
The duo continued in call-and-response fashion, rapping, "Then he'd take it down a notch and keep things super light," followed by, "'Bout to get some Taco Bell!!! n see what's poppin tonight."
After Swift canceled a concert in Buenos Aires, Argentina, this month due to a forecast storm, she and Kelce stayed in her hotel room for the entire evening, which he addressed on an episode of his podcast this week.
"The only night we had a chance to go to dinner was the night the show got postponed, so we didn't want to just go and have a blast throughout the city like we didn't care about the show," he said. "So we made sure we stayed in the hotel and kind of kept to ourselves."