Stephen Colbert sets Mike Pence on fire with most deadpan impression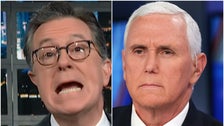 Late Show host Stephen Colbert on Monday unveiled how Pence's impressions of his former boss have soured.
"Hello, it's me, the godless president – I'd like to order another cheese burger, please," he said, also noting how, despite his anti-Trump comments, Pence is fighting the DOJ subpoena to testify about Trump's role. in the January scandal. . 6 uprisings.