Stabbing in Oklahoma City nightclub: eight people were stabbed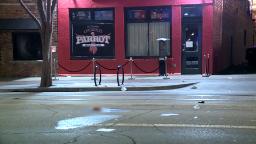 CNN
—

Eight people were injured, including two in critical condition, in a stabbing incident in Oklahoma City. Oklahoma City Police Department.
Police say a "major brawl" broke out at a nightclub early Saturday morning in the city's Bricktown area.
"Several police officers were posted outside the club in accordance with security protocols and saw the fight taking place, with several injured people walking out of the club onto the sidewalk," the police said in a Facebook post. Officers found two people bleeding "profusely" due to "serious stab wounds".
"Officers immediately began to provide life-saving measures, applying tourniquets and applying direct pressure to stop the loss of blood," authorities said.
So far, police say it is "unclear" what caused the fight and no arrests have been made.
This is an evolving story and will be updated.