Spacious Comfort-Focused E-Bikes : gazelle eclipse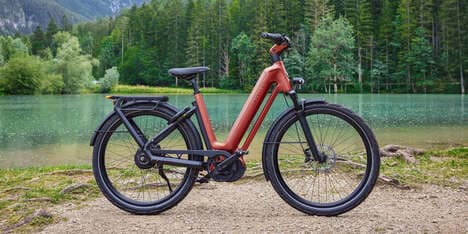 The 'Eclipse' is the latest electric bike released by Royal Dutch Gazelle, a manufacturer based in the Netherlands. This e-bike blends storage capacity with comfort and performance. The bike is powered by a 750 Wh battery and a powerful 85 Nm motor, resulting in the bike easily meeting its set 28 Mph speed limit while achieving a range well over 60 miles, though this will fluctuate based on the riding conditions and level of pedal assistance used.
In terms of its other features, the bike offers convenience to the rider with its Kiox 300 display which unlocks access to metric tracking, navigation, performance monitoring, and more. This bike is also comfortable with its 75mm travel suspension fork, its generous seat size, and its spacious design that also accounts for storage capacity.
Image Credit: Royal Dutch Gazelle