Sobolenko beat Kazakh Rybakina to win the first Grand Slam at the Australian Open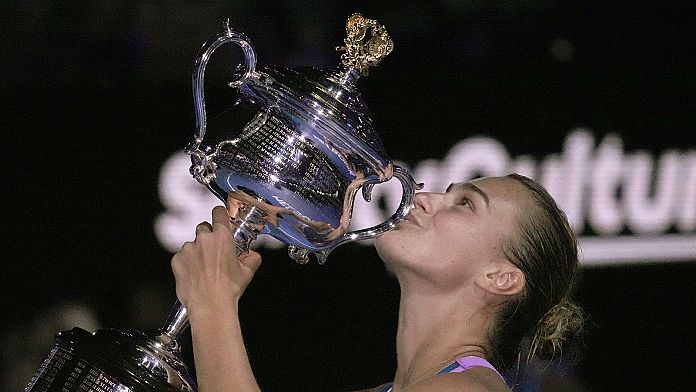 Arina Sobolenko tamed her nerves to fight her way to her first Grand Slam title at the Australian Open by defeating 22nd seed Yelena Rybakina of Kazakhstan 4-6, 6-3, 6-4 on Saturday in a thrilling two-man final strong attackers. in the women's game.
Sabalenko's 11th win in a row this year will return the Belarusian from the fifth seed to her career-high No. 2 spot – behind Iga Swiatek's polka – as she reaps the benefits of an improved game mindset in the New Year.
The success followed a period of introspection and change for the 24-year-old, who has often let her emotions hold her back on her biggest stage with three previous major semi-final losses.
She quit her sports psychologist before the start of the season and also worked with a biomechanics coach to improve her fiery serve, which has tended to let her down at important moments in the past.
"After all these difficult matches, it became even more pleasant," Sobolenko told reporters. "Right now, I feel like I needed these heavy losses to understand myself a little better. It was like preparation."
"I'm really happy that I lost those matches, so right now I can be a different player and a different Arina."
The results were evident even before the first Grand Slam of the year, when she won the Adelaide International 1 title.
As Russian and Belarusian players compete individually without nationality in Melbourne due to Russia's invasion of Ukraine, Sobolenko becomes the first neutral to win a major tournament. But she downplayed the change.
"I think everyone still knows that I am a Belarusian chess player. That's all, "she categorically told reporters.
"No one tells you it will be easy"
After completing her first Grand Slam earlier, she fell to the floor in ecstasy, then walked over to Rybaka's side of the court to hug her before hugging her emotional entourage in the players' box. Sobolenko's coach Anton Dubrov cried with joy.
Rybakina, who won last year's Wimbledon, advanced to the final confidently, becoming the first woman since Jennifer Capriati in 2001 to beat three Grand Slam winners along the way, dethroning Swiatek, Elena Ostapenko and Victoria Azarenka.
"In the last game, of course, I was a little nervous. I constantly told myself: "No one tells you that this will be easy, you just need to work to the last point," she added.
"I'm very happy that I was able to handle all those emotions and win this one."
Rybakina acknowledged how hard her rival worked for her first major title.
"I hope we have many more battles to come," she added. "I'm looking forward to coming back next year… It's been an amazing two weeks for me and I hope I get the same results and even better."
Later in the evening, Australian wild card pairing Jason Kubler and Rinki Hijikata beat Hugo Nies and Jan Zielinski 6–4 7–6 (4) to clinch the men's doubles title.