Shannen Doherty files for divorce, publicist says she 'had no other choice'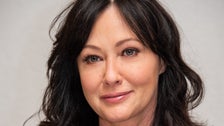 LOS ANGELES (AP) — Charmed and Beverly Hills, 90210 actress Shannen Doherty has filed for divorce from her husband Kurt Isvarienko after 11 years of marriage, her rep said.
"A divorce is the last thing Shannen wanted," publicist Leslie Sloan said Saturday in an emailed statement. "Unfortunately, she felt like she had no other choice."
In early 2020, Doherty, now 52, ​​announced she was battling a recurrence of breast cancer that had progressed to stage four, calling it "a bitter pill to swallow."
"I definitely have days when I say, 'Why me?' And then I say: "Well, why not me? Who else? Who else but me deserves this? None of us know," Doherty told Good Morning America.
The actress first revealed that she had breast cancer in 2015 and spoke about her struggle with the disease on social media.
Doherty did not mention the development of divorce on Instagram, but in a Friday post she wrote: "The only people who deserve to be in your life are those who treat you with love, kindness and full respect."
In October 2021, a federal jury in Los Angeles awarded Doherty $6.3 million in a lawsuit alleging that State Farm, her insurance company, did not pay enough for damage to her home in the 2018 California wildfire. year. The jury found the failure to pay insurance benefits for Doherty's Malibu home "unreasonable and without good cause."
In her statement, Sloane, Doherty's publicist, suggested contacting Isvarienko's agent for work, whom she named Collier Grimm. Grimm did not immediately respond to the message for comment.