Seth Meyers Shares His Plan For If Trump Wins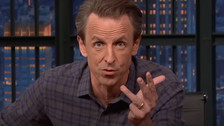 Seth Meyers is definitely, totally, 100% not freaking out over a possible White House return for Donald Trump.
On Monday's episode of "Late Night," the comedian noted new polling showing President Joe Biden actually trailing his predecessor — and now the Republican 2024 frontrunner — in a hypothetical re-match of the 2020 vote.
Meyers went to great lengths in a fast-paced tone to explain why he certainly wasn't panicking that the four-times-indicted, twice-impeached, divisive rhetoric-mongering former reality TV personality could be back in power.
And it basically boiled down to Meyers having "a go bag so I can get the fuck out of here" and broadcast online from a country "that won't extradite to the U.S."
Watch Meyers' full monologue here: