Serbia calls on NATO-led forces to guarantee security in Kosovo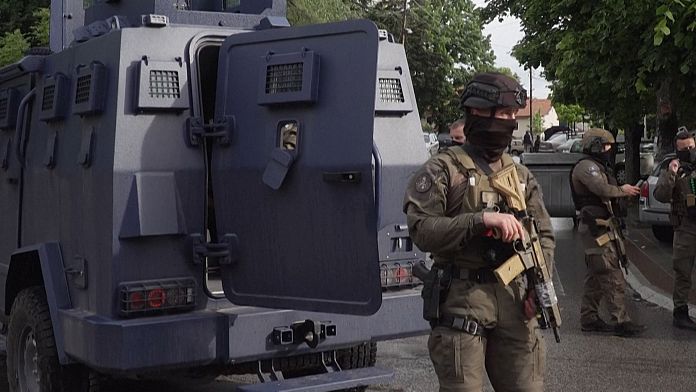 President Aleksandar Vučić said that due to "violence" against Kosovo Serbs, Serbia demanded that NATO-led troops stationed in Kosovo protect them from the Kosovo police.
Serbian Defense Minister Milos Vucevic called on NATO or KFOR-led Kosovo forces to guarantee security inside Kosovo after clashes between police and ethnic Serbs on Friday left more than a dozen people injured on both sides. The Serbian border police have also been put on high alert.
"The Serbian army is, of course, in contact with KFOR, and we expect that KFOR will be much more actively involved in hostilities in order to guarantee security, freedom, human rights to their citizens living in the territory of the province, so as not to be divided, whether they are Serbs, Albanians or some other nation," Vucevic said on Friday.
Vucevic accused Kosovo Prime Minister Albin Kurti of "bringing us to a red line for Serbia".
"Kurti will not stop and will continue his activities aimed at further aggravating the Serbian community," he added.
Ethnic tensions in northern Kosovo
Ethnic Serbs in northern Kosovo, who make up the majority in that part of the country, tried earlier Friday to block newly elected ethnic Albanian officials from entering municipal buildings. Early elections on 23 April were largely boycotted by ethnic Serbs, and only ethnic Albanians or other members of smaller minorities were elected to mayoral and assembly positions.
The Kosovo police used tear gas and set fire to several vehicles. The police used tear gas to disperse the crowd and let the new officials into the offices. Kosovo Serb hospital officials said about 10 protesters were injured. Police said five officers were injured by stun grenades and other objects thrown by protesters. The police car was set on fire.
In response to the clashes, Serbian President Aleksandar Vučić said he had put the army on "high alert" and ordered troops "urgently" to move closer to the border. He also demanded that NATO-led troops stationed in Kosovo protect ethnic Serbs from the Kosovo police.
The United States has condemned the Kosovo government for using the police to forcibly enter municipal buildings.
"These actions have led to an abrupt and unnecessary escalation of tensions, undermining our efforts to normalize relations between Kosovo and Serbia and will have repercussions for our bilateral relationship with Kosovo," US Secretary of State Anthony Blinken said Friday.
Vučić spoke at a Friday night rally in Belgrade when tens of thousands turned out to support the government after two mass shootings earlier this month that left 18 people dead and 20 injured, stunning the nation.
"We will keep the peace, but I tell you that Serbia will not sit idly by when the Serbs in northern Kosovo are attacked," he told the crowd.
Belgrade threatens retaliation
Vučić has previously warned that Belgrade will react to violence against Serbs and has raised its alert several times at moments of tension with Kosovo.
However, any attempt by Serbia to move its troops across the border would mean a clash with NATO troops stationed there.
Zdravko Ponos, a former Serbian army commander turned opposition politician, criticized Vučić's response as "inappropriate".
"It's just a saber-rattling that saves Vučić's face," Ponos told the N1 regional television network.
The Kosovo police have acknowledged their increased presence in the north "to help the mayors of the northern communes of Zvecan, Leposavić and Zubin Potok exercise their right to work."
New mayors in three northern communities were not allowed to enter municipal buildings, and small groups of Serbs raised their hands at the entrances, apparently to show they were not involved in the violence, according to the Albanian news outlet indexonline.net, which also published the photo.
In Zvecan, the news website Kosovo-online.com showed clashes with police in front of the municipal building, and in Leposavic, the main square was blocked by cars and trucks.
Earlier, Serbs had turned on loud sirens in four locations, including in the main northern city of Mitrovica, police said, calling the sirens a rally call and a warning that security forces were in the area.
Tension over local elections
Local elections were held in four predominantly Serb communities in northern Kosovo after Serb representatives left office last year. They resigned in protest against the refusal of the Kosovo authorities to allow the formation of their association to coordinate work in the field of education, health, land management and economic development at the local level.
The 2013 agreement between Pristina and Belgrade on this plan to create a Serbian association was later declared unconstitutional by Kosovo's Constitutional Court, which ruled that it did not include other ethnic groups and could entail the use of the executive branch to introduce laws.
Both sides have tentatively agreed to support the EU's action plan for the way forward, but tensions still linger.
The US and EU have stepped up efforts to resolve the Kosovo-Serbian dispute, fearing further instability in Europe as war rages in Ukraine. The EU has made it clear to both Serbia and Kosovo that they must normalize relations in order to move forward with their intentions to join the bloc.
The conflict in Kosovo erupted in 1998 when separatist ethnic Albanians rebelled against Serbian rule and Serbia responded with brutal repression. About 13,000 people died, mostly ethnic Albanians. NATO's military intervention in 1999 eventually forced Serbia to withdraw from the territory. Washington and most EU countries have recognized Kosovo as an independent state, while Serbia, Russia and China have not.