Selena Gomez got into a fight with security at Beyoncé concert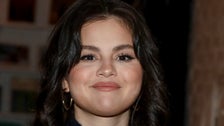 Fans caught the 'Only Murders in the Building' actor yelling at one of the people accompanying her to the show in a video posted on tik tak.
While the video doesn't show what caused the fight, the poster says the star got mad at the security guard for not letting her talk to fans. It is not yet clear if the man was part of her team or worked for the stadium.
Another clip posted on Twitter apparently gives more context, showing the star blasting past fans while smiling and giving a high five.
However, this video did not show if she interacted with fans before or after the tense conversation.
HuffPost has reached out to the Gomez team for comment.
Gomez's conflict at the concert echoes another pop star's recent ordeal.
Taylor Swift was filmed yelling at security at a concert in Philadelphia earlier this month.
In the video from the show, the singer yelled at security stop touching a fan between the lyrics of her song "Bad Blood".
After that, people on the Internet praised Swift for keeping an eye on her fans.