Russia 'will have to stop in The Hague on its way to hell' after ICC arrest warrant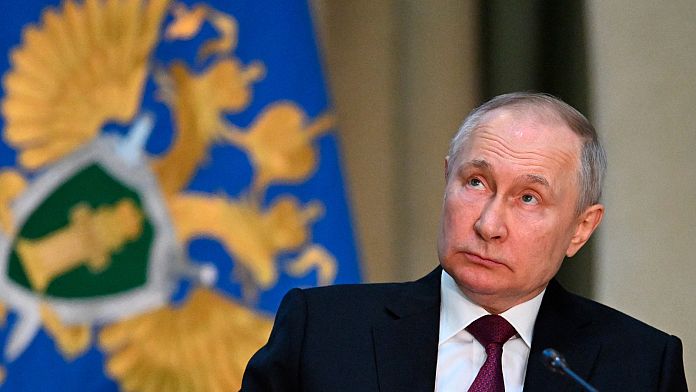 The Ukrainian ambassador to the UN says that "there is no purgatory for war criminals, they go straight to hell."
Speaking after the International Criminal Court issued an arrest warrant for Russian President Vladimir Putin on Friday, Sergei Kislitsa said that "those of them who survive the military defeat of Russia will have to make a stop in The Hague on their way to hell."
In his overnight address to the nation, Ukrainian President Volodymyr Zelensky called it "a historic decision that will begin historic responsibility."
The Kremlin, however, has rejected an ICC arrest warrant that could theoretically lead to Putin's arrest if he travels to an ICC signatory country.
Putin's spokesman called the arrest warrant "outrageous and unacceptable" and called the ICC's decisions "legally invalid."
In Washington, US President Joe Biden called the ICC's decision "justified," telling reporters that Putin "clearly committed war crimes." While the US also does not recognize the trial, Biden said they have a "very strong case" to condemn the Russian leader's actions in ordering the invasion.
What did the International Criminal Court say?
The International Criminal Court said it had issued an arrest warrant for Russian President Putin for war crimes over his alleged involvement in kidnapping children from Ukraine.
A court statement on Friday said Putin was "allegedly responsible for the war crime of illegal deportation of the population (children) and illegal transfer of the population (children) from the occupied territories of Ukraine to the Russian Federation."
At the same time, the court also issued an arrest warrant for Maria Alekseevna Lvova-Belova, Commissioner for Children's Rights under the Presidential Administration of the Russian Federation, on similar charges.
The ICC said its Pre-Trial Chamber found "reasonable grounds to believe that each suspect is responsible for the war crime of illegal deportation of the population and illegal transfer of population from the occupied territories of Ukraine to the Russian Federation to the detriment of Ukrainian children."