Russia ready to extend Turkey-brokered grain deal for 60 days as talks continue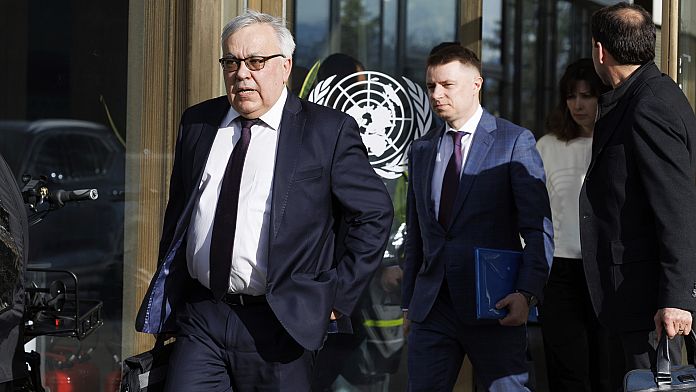 The Russian delegation at the UN talks announced that the Kremlin is ready to agree to a 60-day extension of last year's Black Sea Grain Initiative.
The deal, originally brokered by Turkey and the UN on July 22, 2022 in Istanbul, allowed ships to export Ukrainian food and fertilizer from three Black Sea ports. When Russia invaded Ukraine last February, the global food supply chain was severely affected, as Ukraine was one of the world's most important breadbaskets. Food prices soared and raised fears of food shortages in developing countries.
The deal also includes maritime cargo checks by UN, Russian, Ukrainian and Turkish officials to ensure only food is being transported and not weapons.
The 120-day agreement was extended last November. That extension expired on Saturday and another 120-day extension was offered.
"The UN Secretary General confirmed that the UN will do everything possible to preserve the integrity of the Black Sea Grain Initiative and ensure its continuity," the UN said in a statement. It emphasizes that the deal allowed the export of 24 million tons of grain and more than 1,600 ship voyages through the Black Sea, with more than half of the exports destined for developing countries.
Ukraine and Russia are the world's key suppliers of wheat, barley, sunflower oil and other food products to countries in Africa, the Middle East and parts of Asia where millions of people do not have enough to eat. Before the war, Russia was also the largest fertilizer exporter in the world.
Last week, Moscow expressed disappointment that the parallel agreement failed to fully open the door to Russian grain and fertilizer exports across the Black Sea.
"A detailed and frank conversation once again confirmed that while the commercial export of Ukrainian products is carried out at a stable pace, bringing considerable profit to Kiev, restrictions on Russian exporters of agricultural products remain," the Russian delegation said in a statement. statement.
"The food and fertilizer sanctions exemptions announced by Washington, Brussels and London are essentially non-existent," the statement said.
UN spokesman Stéphane Dujarric said the organization is working to promote Russian agricultural exports, noting that while Russian food and fertilizers are not subject to sanctions, private companies are cautious when dealing with them, and "that's why we requested letters of assurance." from some governments.
As part of the deal, Moscow wants Russian ammonia to be piped through Ukraine to Black Sea ports for possible export. Russian officials also say banking restrictions and high insurance costs have undermined their hopes for fertilizer exports.
Vice Prime Minister of Ukraine Oleksandr Kubrakov said that "Russia's position on extending the deal for only 60 days contradicts the document" providing for an extension of at least 120 days, and said that Kiev was waiting for the official positions of the UN and Turkey.