Ruling party leads in renewed elections in Kazakhstan, exit poll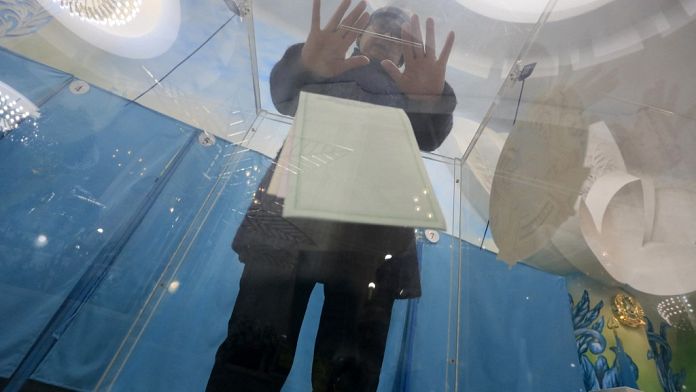 According to the exit poll, the ruling party of Kazakhstan is in the lead in the national elections.
On Sunday, Kazakhs voted for independent candidates in legislative elections in what was seen as a timid democratic opening in the authoritarian Central Asian country.
According to the Electoral Commission, the turnout was about 54%.
The results are expected on Monday.
The ruling Amanat party leads with 53% of the vote, according to an exit poll broadcast on state television, although some concerns have been raised about the legitimacy of the election.
Five to six parties are expected to enter parliament, compared to three at present.
In these elections, the people voted for the new system, with 69 deputies – out of 98 deputies of the Mazhilis (parliament) – now elected under a proportional system.
Candidates not affiliated with any party could run for the first time since 2004.
The threshold for entering the Mazhilis was reduced to 5%, and a 30% quota for women, youth and persons with disabilities was introduced.
These changes brought a modicum of democracy to Kazakhstan's political system after bloody riots in January 2022 fueled by growing discontent with the government and endemic poverty.
According to official figures, 238 people died during the suppression of the riots.
However, problems were noted with the authenticity of the reforms, as several opposition parties and independent candidates were banned.
"The electoral system has changed and creates the impression of choice. But in reality, the president and his administration hold the vote count in their own hands," political analyst Dimach Alianov told AFP.
"In an authoritarian country, elections are held to preserve power, not to replace it," he continued.
Election observers were reportedly prevented from counting votes, and videos of ballot stuffing appeared on social media.
Euronews cannot independently verify these claims.
The elections are the result of the desire of the President of Kazakhstan, Kassym-Jomart Tokayev, to reform the constitution, who came to power in 2019.
The 69-year-old leader of the resource-rich country has shown a desire to "modernize" his country, a former Soviet republic nestled between Russia and China.
Corruption and gaping inequalities, exacerbated by recent inflation that fueled unrest in 2022, have not gone away.
"With the admission of independent candidates, I think the electoral system is changing for the better," said nurse Irina Rechetnik, while 81-year-old retired professor and presidential supporter Ernest Serikov called the elections "experimental." .