Robert Blake's son criticizes Jimmy Kimmel for joking about his late father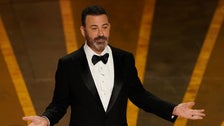 Noah Blake criticized Jimmy Kimmel for joking during Sunday's Oscars about his late father, actor Robert Blake, who went from Emmy winner for his role in the '70s cop series Baretta to acquitted of murder his second wife, Bonnie Lee Bakley.
Noah Blake told a joke about his father who died of heart disease at age 89 Three days before the 2023 Academy Awards, it was "not funny." He said it "landed like a thump" and "a bit of a baffle".
"Two, three days after someone passed away…maybe not the best time to make so-so jokes at their expense," the younger Blake said. TMZ This week.
Announcing the annual "In Memoriam" segment, host Kimmel joked, "Everyone, please get your phones out, even at home, it's time to vote. If you think Robert Blake should be part of the In Memoriam montage, text 'Gimme-A-Blake' to the number on the screen or any other number."
Robert Blake did not appear among the tributes.
Noah Blake, one of two children the actor shared with first wife Sondra Kerr, said: "I think it was all badly handled. I think the whole "In Memoriam" was just messed up and messed up really, really badly."
"Not just from my father's point of view… but there were 'many other people who made a big difference in their lives who didn't make it onto this list,'" he added. "It's just completely wrong."
Noah Blake acknowledged that "people are entitled to their opinion", including about his father. But "your personal opinion of someone should really be independent of the work they are doing," he argued. "I think Jimmy is a really funny guy…but he didn't even seem comfortable telling that joke."