Protests reach Haiti airport and prime minister's residence over police killings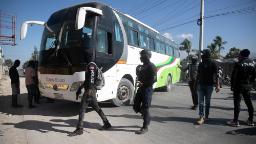 CNN
—

Protesters and some police officers protested outside the Haitian prime minister's official residence in the capital Port-au-Prince on Thursday, denouncing recent police killings, one of his advisers said.
"Police and protesters are here to make their voices heard. They are evil and we understand and hear them," the adviser told CNN, asking for anonymity as he is not authorized to comment on the current situation.
Images of protesters have surfaced on social media near the prime minister's residence and at the country's main airport, Toussaint-Louverture International Airport.
Prime Minister Ariel Henry, who was returning to Haiti from a summit in Argentina on Thursday, was not at his residence at the time of the incident. He did not comment publicly on the demonstrations.
Amid widespread insecurity and gang violence in the country, the killing of several police officers in the line of duty this week sparked anger in the capital.
Six policemen were killed on Wednesday, according to public statements by the Haitian National Police, bringing the total death toll over the past week to at least 10. Police did not respond to CNN's request for comment.
In an announcement issued by police on Thursday, CEO Franz Elbe declared a state of "maximum alert" in light of the killings.
The international community condemned the attacks on police in Haiti.
In a tweet, the US embassy in Haiti wrote that it "expresses its condolences to the families and friends of the brave … officers who died in the line of duty and calls for calm to protect the population and allow peaceful mourning."
"We stand with the security forces that are fighting armed gangs to restore the safety of the Haitian people," the embassy wrote.
The United Nations Integrated Office in Haiti also tweeted its "strong condemnation of the targeted and deliberate attacks by armed gangs on police officers".