Protesters in France call on President Macron to abandon pension reform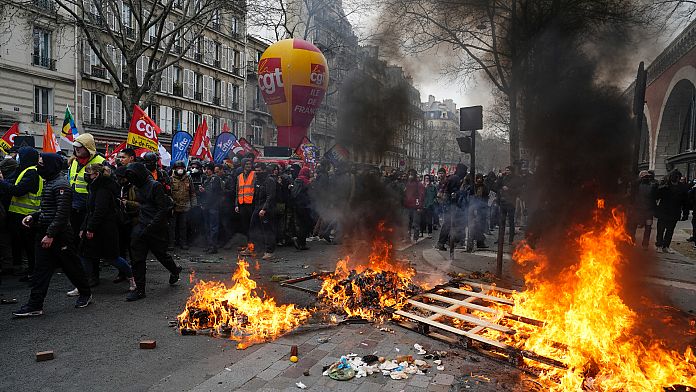 Opponents of French President Emmanuel Macron's plan to raise the retirement age from 62 to 64 staged a new wave of protests on Saturday aimed at forcing the government to back down.
The nationwide rallies were the second round of protests in just four days and the seventh since January, and they were bolstered by ongoing strikes in key sectors such as energy, transport and garbage workers.
Although determination remained high, the crowds were much smaller than at previous protests. The French Ministry of the Interior said 368,000 people attended rallies across France; while the CGT union said that more than a million people protested.
Police clashed with troublemakers in several cities, notably Paris, attacking, stopping and pepper spraying black-clad intruders who were setting fire to rubbish piles along the way.
'More anger' as Macron snubs union leaders
The protest marches coincided with a debate on the government's pension reform bill in the Senate, where the clock ticked to meet Sunday's midnight vote deadline before legislation moves to the next step in a complex process.
President Macron's refusal to accept union leaders' request for a meeting has strengthened protesters' resolve, a CGT union leader said ahead of Saturday's march in Paris.
"There is more anger," Philip Martinez insisted, adding that refusing to meet with the union leaders who organized the protests was an insult equal to "pointing the finger."
On Friday, the government requested a special procedure to speed up the process by calling for a single vote on the entire bill, rather than a separate vote on each article and hundreds of amendments.
If the bill is approved by the conservative-controlled Senate, as expected, it will continue its consideration in the legislative process in France next week. The government does not exclude the use of special constitutional powers to pass the bill through parliament without a vote.