'Protest! Protest! Protest!' Will Donald Trump really be arrested on Tuesday?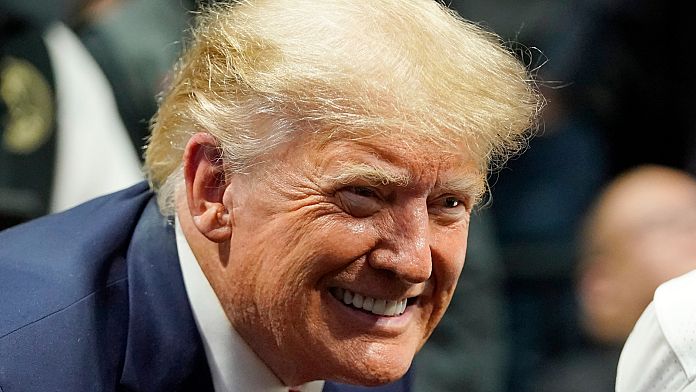 Donald Trump said he was going to be arrested on Tuesday and called on his supporters to protest.
But how likely is it that the former US president will be arrested, as he says?
Trump's lawsuit comes as a New York grand jury is investigating silence payments to women who claim they had sex with the former president.
Despite his attorney and spokesman saying there were no reports from prosecutors, Trump said in a post on his social media platform that he expects to be taken into custody on Tuesday.
His message appeared to be aimed at preempting an official statement from prosecutors and sparking outrage among his supporters before the widely anticipated charges were filed. For hours, his campaign sent out fundraising appeals to his supporters, while influential Republicans in Congress and even some declared and potential rival candidates issued statements in his defense.
In a later post that went beyond simply urging loyalists to protest its legal danger, the 2024 presidential candidate directed his all-encompassing anger in capital letters at the Biden administration and raised the possibility of civil unrest:
"TIME!!!" He wrote. "WE JUST CANNOT ALLOW THIS AGAIN. THEY ARE KILLING OUR NATION WHILE WE SIT AND WATCH. WE HAVE TO SAVE AMERICA! PROTEST, PROTEST, PROTEST!!!"
All of this evoked a premonition of the rhetoric he used shortly before the U.S. Capitol uprising on January 6, 2021. the confirmation by Congress of the victory of Democrat Joe Biden in the White House, breaking the doors and windows of the building and leaving the officers beaten and bloody.
District Attorney Alvin Bragg is believed to be handling the allegations in an anti-money investigation and recently invited Trump to testify before a grand jury. Local law enforcement is preparing for the public safety implications of the unprecedented prosecution of a former American president.
In an internal email following Trump's statements, Bragg said law enforcement would ensure the safety of the 1,600 people working in his office and that "any specific or credible threats" would be investigated.
There has been no public announcement about the timing of the secret grand jury work on the case. At least one additional witness is expected to testify, which also indicates that the charge has not yet been voted on, according to a person familiar with the investigation, who was not authorized to discuss the case publicly and spoke on condition of anonymity.
That hasn't stopped Trump from taking to his social media platform to say "illegal leaks" from Bragg's office indicate that "REPUBLIC'S REMOTE LEADING CANDIDATE AND FORMER PRESIDENT OF THE UNITED STATES OF AMERICA WILL BE ARRESTED ON TUESDAY NEXT WEEK. "
Trump's attorney Susan Necheles said Trump's message was "based on media reports" and a spokesperson said there was "no notice" from Bragg's office, though the origin of Trump's mention on Tuesday was unclear. a comment.
Trump aides and legal team are preparing for a possible arraignment. If this happens, he will only be arrested if he refuses to surrender. Trump's lawyers have previously said he will follow normal procedure, meaning he will likely agree to turn himself in at a New York City police station or directly at Bragg's office.
It is unclear whether Trump's supporters will heed his protest call or whether he will retain the same persuasive power that he enjoyed as president. Trump's posts on Truth Social usually get far less attention than he used to get on Twitter, but he has a very loyal base. The aftermath of the January 6 riots, in which hundreds of Trump supporters were arrested and prosecuted in federal court, may also have dampened supporters' passion for confrontation.
The indictment of the 76-year-old Trump would be an extraordinary event after years of investigations into his business, political and personal affairs.
Even now, as Trump is campaigning for the last time in the White House, there is no doubt that the indictment will divert attention and provide food for opponents and critics tired of the legal scandals that have long surrounded him.
In addition to the undercover investigation in New York, Trump faces separate criminal investigations in Atlanta and Washington over his efforts to overturn the 2020 election results.