Outrage over Finnish election campaign hit by 'racist' advertising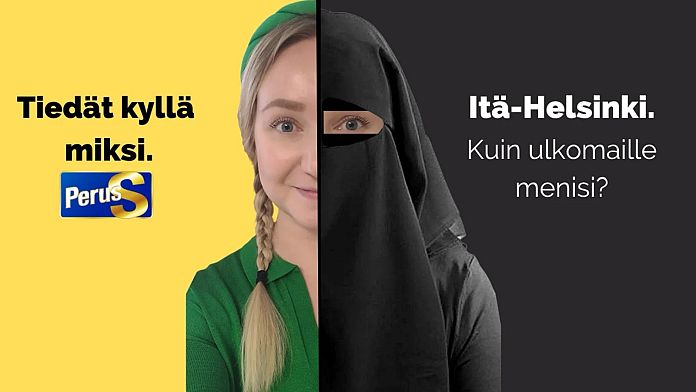 Finnish voters go to the polls in early April as part of a hard-fought campaign in which Prime Minister Sanna Marin Social Democrats in a tough three-way race against the conservatives National Coalition Partyand far-right populist Finns Party.
This week, the Finns' Party candidate drew backlash from other politicians and voters for an ad that was called "racist."
Laura Yokela, who is stationed in Helsinki, uploaded the image to her social media accounts and said she would also distribute the image on the flyer to potential supporters.
On the left side, half of her face is shown with the words "You know why" in Finnish above the Finns Party logo.
On the right, it depicts the face of Jokela, clearly hidden in a veil, and the slogan "Eastern Helsinki. How to go abroad?
"If someone thinks a photo is racist, they may ask themselves why they think so," Yokela, 31, told Euronews.
"If the reason is that a Finn wears a burkha, you might wonder about your own prejudice, why it evokes negative feelings," she said.
Some of the responses on the Internet supported Joquela's campaign poster. "You are doing a great job," one man said, while another offered to distribute flyers on her behalf. Another person said, "It's a pity we can't do anything about the immigrant criminals who have invaded Finland" and "the police are already powerless."
But most of the comments criticized the position of Joquela and her party, where the most popular candidate (and former party leader), and several MPs have been repeatedly convicted of racially motivated crimes; and where, in the recent past, party activists supported banned neo-Nazi groups, declared their support for fascism, and championed ethno-nationalist causes.
"Of course they want attention and they want us to react, we know that," he said. Khabiba Alimember of the local council from the Social Democrats in the city of Espoo, west of Helsinki.
"But at the same time, we cannot remain silent about the racist things they do and how they behave. We must hold them to account," she told Euronews.
"It's a really racist picture," said Ali, who previously spoke of the racist and gender-based abuse she suffered while campaigning during Finland's latest round of parliamentary elections, with threats of rape and violence against her, especially because she a woman with an immigrant background.
Finland first born in Somalia Member of parliamentSuldan Said Ahmedthis year is the candidate of the Alliance of the Left party and lives in the eastern suburbs of Helsinki. In 2022 he was appointed as Special Representative of the Minister of Foreign Affairs of Finland for Peace Mediation in the Horn of Africa.
"They should come this decade, Finland is a very diverse country and there are many ways to be Finns," he told Euronews.
During the 2019 general election campaign, Saeed Ahmed was attacked by a man on the campaign trail in an apparent racially motivated manner.
"This kind of confrontation and contempt for groups of people is not conducive to anyone's safety, and it is absolutely disgusting," he said.
Green league Ozan Yanar also lives in eastern Helsinki and is running for election in April. He says the stereotype of the eastern part of the Finnish capital, home to a large multi-ethnic community and which has been branded by Finns Party activists in the past as a "no-go zone" for the police, is unfounded.
"East Helsinki is a very nice place where Finns of different backgrounds live. All these prejudices about eastern Helsinki are false," he told Euronews.
"This is an ordinary Finnish district. I don't take these attention-seeking politicians who are trying to seriously criticize Helsinki," said Yanar, who was born in Turkey and moved to Finland as a teenager and then served a term in parliament from 2015 to 2019.
This is not the first time that the Finns Party has found itself in a difficult legal situation due to racist comments during the election campaign.
In the 2019 European Parliament elections, the party's youth wing shared a European Parliament post on social media that featured two black people.
The message urged people to vote for the Finns Party "unless you want the future of Finland to look like this."
The youth group later lost all tens of thousands of euros in state funding for the racist post, despite the author's apology. The youth group was formally disbanded, but later re-established under a different name as part of the main party structure.