On the border with Mexico, anger and tears over the deaths of migrants in a fire in prisons
CIUDAD Juarez, Mexico –
They came to serenade Joel Alexander Leal Peña, born 21 years ago.
"Tus amigos legamos aquí!" sang about three dozen people, huddled in the shadow of a metal grill in front of the government building in this border town. "All your friends have arrived here!"
They raised their mobile phones to share the moment with loved ones on another continent, repeating the words of the energetic South American birthday ballad. "We want you to be filled with happiness!"
Some had tears in their eyes.
Leal Peña, a native of Venezuela, died a few days earlier before his birthday.
They at least 38 people died in the fire on Monday V immigration detention center across the Rio Grande from El Paso. Now, the bunker-like government building has become a memorable backdrop for a performance—both birthday celebrations and farewells.
All of the dead and dozens of injured were from Central and South America, including at least seven Venezuelans. The death toll so far also lists 18 people from Guatemala, seven from El Salvador, six from Honduras and one from Colombia. Authorities said they all died from carbon monoxide poisoning.
They were among the thousands of migrants stranded here and in other Mexican border cities in hopes of a chance to enter the United States.
Since migration north of the border is politically motivated, US leaders have tried to move the task of keeping migrants out of Mexico. But this latest tragedy has shown many again how ill-suited Mexico is to cope with the influx of migrants heading to the US in transit through the country.
"We have become the gatekeepers of the United States," said Cony Gutierrez, a longtime immigration activist. "But Mexico is not ready to be a watchdog for any country."
It is still not publicly known whether any of the victims of the fire were sent back to Mexico from the United States under Section 42, a public health measure enforced during the pandemic that allows US officials to expel migrants quickly without giving them the opportunity to apply. political asylum or other potential assistance.
Mexican authorities called death a murder. Leaked security footage shows facility staff rushing away as smoke and flames gathered and prisoners remained trapped behind bars.
Officials have charged three federal immigration agents, a private security guard and a Venezuelan detainee with murder who prosecutors say helped start the fire by setting fire to a mattress during a protest against lack of drinking water, food and other essentials. an object. Authorities are awaiting more arrests.
The border disaster has stunned Mexico, a country that has long since sent scores of its own to the United States.
"I have to admit, this upset me deeply. It hurt me," Mexican President Andres Manuel López Obrador said on Friday. "It broke my soul."
But here, among migrants trying to make a living while they wait to cross the US border and apply for asylum or other assistance, there is little sympathy for the president or other Mexican officials.
López Obrador flew to Ciudad Juarez on Friday on a trip scheduled before the fire but resisted requests to visit some of the victims who are still being treated in hospitals.
A loud contingent of migrants, mostly Venezuelans, camped outside the squat federal building where the fire broke out, nestled between two busy international bridges. The charred entrance to the chamber faces the Rio Grande, about 100 yards from the border.
Some migrants close to the scene wear posters around their necks with pictures of people killed in the fire. They all talk about seeking "justice" in the case, and fear that Mexican authorities may lay the blame on lower-level officials and Venezuelan migrants accused of arson.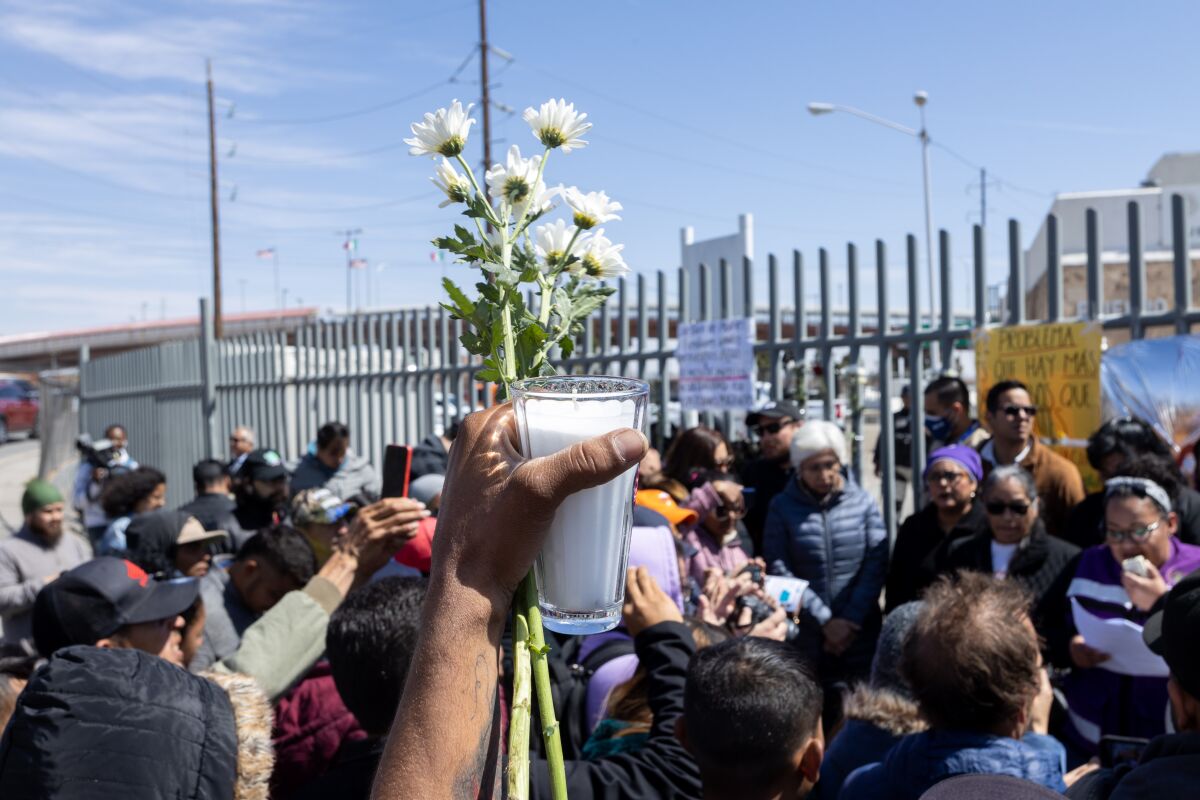 Posters with the slogans "Emigrating is not a crime" and "Let's end xenophobia" hang from a thick metal grill surrounding the government building. Migrants and activists have turned a section of the adjacent street into a hybrid tent city, protest site and memorial. About 50 people are now sleeping here, in the shadow of City Hall.
Candles, flowers, photographs of the victims, and flags of their homeland mark the makeshift pavement altar and altar for the victims.
This is where migrants gathered to pay tribute to Leal Peña on Thursday, the day he would have turned 21.
They sangYour birthday", written by Diomedes Diaz, the late maestro of the Colombian folk genre known as vallenato. They clapped to the beat, danced on the spot and sang familiar lyrics while the boombox provided accordion and percussion.
Behind them, the young face of Leal Peña was looking at them. On the poster, pasted to the lattice of the complex, there was his photograph and the demand: "Justice for Alexander."
The singers concluded, "I hope you are full of happiness and thank God that you have another year."
According to his friends, Leal Peña was a young man determined to transcend his humble origins and find opportunities outside his troubled homeland. Like many others, he traveled for months and covered thousands of miles, crossing jungles, mountains and deserts to achieve what seemed to be a new and promising life. His countrymen here could relate to all of this.
"I met Joel Alexander here in Juarez in the park," said Jorge Luis Benítez Mendez, 35, a Venezuelan in a blue and white Dallas Cowboys jacket who grabbed a microphone and played the role of frontman at the birthday celebration. "Actually, we are all brothers. We've all been through a lot. … He was a calm person. But he knew how to try to get food money."
Leal Peña was among the many young Venezuelans who washed car windows and sold cigarettes, snacks and other goods to motorists in Ciudad Juarez. Their seemingly expanding presence has upset the city's mayor, Cruz Perez Cuellar.
"Our patience is running out," the mayor told reporters on March 13.
It came a day after hundreds of migrants, mostly Venezuelans, stormed one of the bridges linking Ciudad Juarez and El Paso, bringing the flight to a temporary halt. They were responding to rumors that the US authorities had opened the crossing for them.
The mayor, a member of López Obrador's ruling party, accused the migrants of harassing residents and even assaulting women and urged people to refrain from paying them money. The mayor outlined a plan, still unrealized, to find shelter and work for the growing ranks of foreigners, some of whom sleep on the streets and beg for food and money.
Dozens of migrants were swept off the streets by Mexican immigration agents working in tandem with municipal police on Monday, migrants and activists said. Most of them were sent to immigration detention.
"I would call it a death operation," said Benitez, a friend of Leal Peña. "They arrested Joel Alexander and others that day, but they did not commit any crime. Migrants come here every day, but no one gives us a job. What do we have to do? Starve to death?"
Also that day, Abel Ortega Oviedo, 29, his wife, two children, and his close friend Orlando José Maldonado Perez, 26, were detained on the streets of Juarez. These two men were like brothers. According to Ortega, they walked together most of the dangerous route from Venezuela to Juarez. During the five-month journey, they stopped – in Panama, Costa Rica and other places – in search of work.
"We shined shoes, washed car windows, sold cigarettes—everything we had to do to survive," Ortega recalled, sitting outside the government compound that housed the ill-fated immigration detention center. "We did everything together. He was my brother."
They arrived in Juarez two weeks ago, said Ortega, who arrived with his wife and two children. Maldonado's wife and 5-year-old son remained in Panama in the hope that the family would be reunited once he entered the United States.
Like other migrants stranded here, Ortega said he tried unsuccessfully to arrange a meeting with US immigration authorities using Washington's CBP One smartphone app. Many here complain about glitches in the system.
Ortega said he and his family were released from custody on Monday afternoon – apparently because their children were with them. But Maldonado remained in the punishment cell. Ortega returned to the hotel where he and his family were staying – and usually Maldonado.
That night, his 4-year-old son asked, "Daddy, where is my uncle?"
Ortega told the boy that uncle had to work and will be back soon. He had no reason to think otherwise—periodic arrests by immigration officers and police were part of the life of migrants on their northern odysseys.
The next morning, an excited friend arrived at Ortega's hotel with the news: "The migration has burned down!"
Ortega ran to the immigration center, which was then burned down and freed from prisoners. He began a frantic search for Maldonado.
"I went from hospital to hospital and they told me he wasn't there," Ortega said.
Finally, on Wednesday, officials released the official death toll. Maldonado's name was on the list, his body was in the city morgue.
Since then, Ortega has been trying to find a way to release the body and bring it back to Venezuela. This is a complex process, especially since most of the dead here have no close relatives. He and others have sought legal permission from grieving parents and other relatives in Venezuela to transfer the remains to them.
"I want to see my brother, hug him, hug him, cry with him," Ortega said, sitting at the foot of the bars protecting the government compound. "I'm not asking for anything else. They just gave it to me. Even if it's just his ashes."
Distraught, he stood up and turned to the blackened entrance to the isolation ward, barely visible in the darkening evening. Sobbing, he began a conversation with his lost friend.
Why, brother? he asked.
"¿Why brother??
Special Correspondents Gabriela Minjares in Ciudad Juarez and Cecilia Sánchez Vidal in Mexico City contributed to this report.