'No Interest': Dolly Parton Explains Why She's Ruling Out A Presidential Run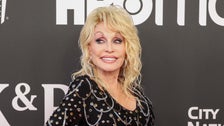 Dolly Parton doesn't see herself working "9 to 5" in the Oval Office.
Parton, who sings of "greedy politicians" in her song "World On Fire," told the publication that she doesn't "think anybody could actually do a great job" in the role before dropping a witty remark.
"I think we've had enough 'boobs' in the White House," said Parton, adding that she has "no interest in politics."
She continued, "I try to do my thing through my songs, through the way I accept people, and the way I try to make a difference. I'm not smart enough to be in politics, or maybe I'm too smart. Either way, I'm not qualified for that type of a job. But I'm pretty qualified to do what I do, which is to point people in the right direction, to write about it in songs or speak about things."
Parton has previously distanced herself from political matters, turning down two opportunities to receive a Presidential Medal of Freedom from then-President Donald Trump and another from President Joe Biden.
She received the National Medal of the Arts in 2005. Still, according to her website, she did not attend a ceremony in the Oval Office where then-President George W. Bush presented the honor to 10 recipients. She later received the honor nearly three years later in Chattanooga, Tennessee.
In a 2018 interview for "Nightline," she told ABC's David Wright, "I learned a long time ago, keep your damn mouth shut if you want to stay in show business. … I'm not in politics, I'm an entertainer."