Nigerian stowaways survive 14-day trip across Atlantic on ship's rudder, drank ocean water: report
A group of Nigerian stowaways managed to survive a perilous 14-day journey across the Atlantic on a cargo ship's rudder by drinking the ocean water crashing below them, a new report says. 
The four men, who ultimately ended up in Brazil, had run out of food and drink on the 10th day of their trip that began on June 27 and decided to turn to what Mother Nature could offer them, according to Reuters, citing their personal accounts. 
"I thought that I was going to Europe and then all of a sudden I found myself, I am in Brazil," Roman Ebimene Friday, one of the stowaways, told Reuters after being rescued by Brazilian federal police in the port of Vitoria, near Rio de Janeiro. 
"So when the federal police came, I don't even know where I was…. So the federal police came and they asked 'Do you know where you are?' I said no. I was the person that was sitting on the block of the vessel … and they said, 'This is Brazil,'" Friday said in an interview. "That was the first thing they said, 'This is Brazil.' I said, 'Wow, this is Brazil.' I made it to Brazil. I am happy." 
'WILD RIDE' AT OHIO'S CEDAR POINT AMUSEMENT PARK WHEN GUESTS DISCOVER EXTRA ROLLER COASTER PASSENGER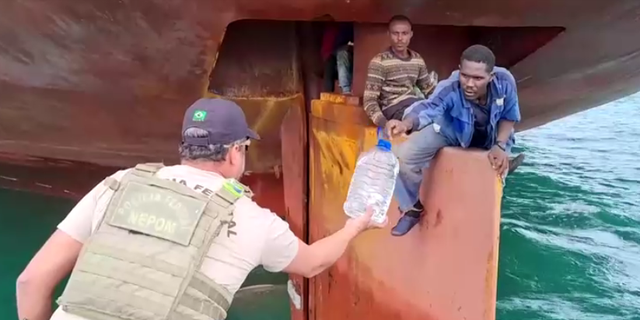 The 35-year-old Friday and another stowaway, Thankgod Opemipo Matthew Yeye, 38, decided to stay in Brazil and apply for asylum while the other two men have gone back to Nigeria upon their request, according to Reuters. 
Both men said they fled Nigeria because of the state of its economy, political instability and crime, the news agency reported.
Friday said a fisherman friend rowed him up to the stern of the Liberian-flagged Ken Wave cargo ship in Lagos on June 27 only to find the three other stowaways already waiting in the vessel's rudder area. 
WAGNER GROUP LEADER PRIGOZHIN CELEBRATES NIGER COUP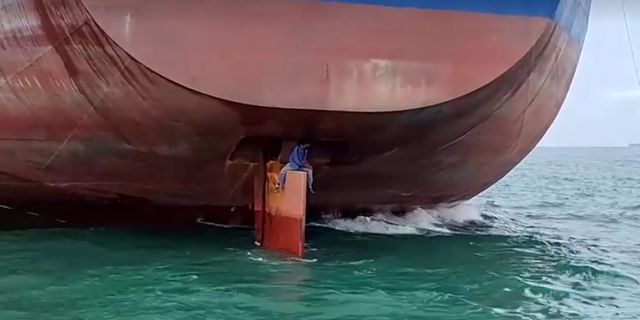 During the 3,500-mile journey across the Atlantic, the men tied themselves to a net they set up in the ship's rudder area to prevent themselves from falling into the water and made sure they were quiet to avoid being detected by the ship's crew, Reuters also reported. 
"Maybe if they catch you they will throw you in the water," Friday was quoted as saying. "So we taught ourselves never to make a noise." 
Video later showed a Brazilian federal police officer handing over water to the men as they sat on the ship's rudder while in port.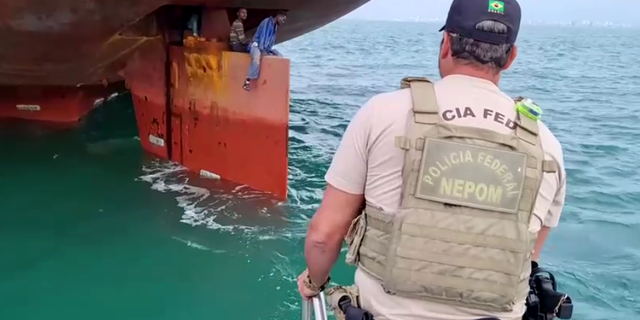 CLICK HERE TO GET THE FOX NEWS APP 
"It was a terrible experience for me. It was the first time, I never tried that before. But because I had already made up my mind to leave … I just summoned the courage," Yeye told Reuters. "But then it's not easy. The sea, the ship, it was shaking. I was so scared, but now I am here in Brazil."