Munich Security Conference: President Zelenskiy repeats call for more weapons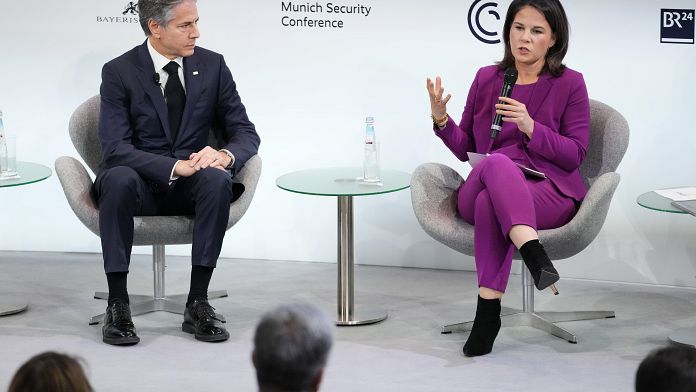 At the Munich Security Conference, Ukraine reiterated that it needs more weapons and ammunition to continue to oppose Russia.
The US and Germany are increasingly convinced that this is the way forward, although Berlin is also willing to listen to China's peace program for Ukraine, depending on what kind of peace Beijing proposes.
"If Russia stops hostilities, and we hope that this is the call of China next week when they propose their peace program, that they will call on Russia to stop hostilities! Because then this war is over," German Foreign Minister Annalena Berbock said at the conference. "But if Ukraine ceases to defend itself, and this may be another argument, then Ukraine is finished. And we cannot accept this, because then the UN Charter is finished."
US Secretary of State Anthony Blinken also drew attention to the damage that Russian President Vladimir Putin is doing to his own people.
"We now have public reports of approximately 200,000 Russian casualties in Ukraine," Blinken said. "Think about it for a minute. In less than a year, we've had over a million Russians leave their country because they don't want to be part of this war and the direction the country is headed in."
Also on the agenda of the conference was the issue of Sweden and Finland joining NATO, which is fully supported by the United States, but blocked by Turkey.
After breaking decades of non-alignment after Russia's invasion of Ukraine last year, Finland and Sweden insist they want to join NATO together.
But Turkey's reluctance to accept Sweden unless it steps up pressure on Kurdish groups in exile has made it more likely that they will have to enter the alliance at different speeds.
Outside the conference venue, several protesters held signs calling for talks over Ukraine rather than fighting.