Moroccan and PSG international Ashraf Hakimi has been accused of rape.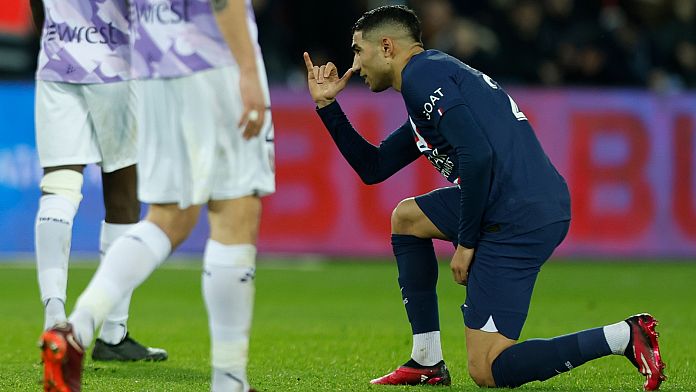 Moroccan international footballer Ashraf Hakimi, who plays for France's Paris Saint-Germain, has been charged with rape.
On Monday, prosecutors in the Parisian suburb of Nanterre launched a preliminary investigation into the charge, and on Thursday, investigators charged the player and the investigating judge placed him under judicial supervision.
Hakimi attended PSG training on Friday and the club say he has their support and will play in the match next weekend.
The 24-year-old woman accused Hakimi, a defender who played for Morocco in this year's FIFA World Cup in Qatar last year, of raping her in his home in west Paris.
Earlier this week, Hakimi's lawyer said the charges against her client were "false" and that Hakimi was "at the disposal of justice."
The woman who made the accusations spoke to investigators on Wednesday, with her lawyer telling reporters: "My client stands by all of his claims. She has chosen to speak exclusively to justice and is unwilling to make the case public, especially for her own safety. ."
The young woman went to the police station for the first time on Sunday, where she said she was raped without filing a complaint.
According to a police source, she then said that she met Ashraf Hakimi, who scored the winning penalty for Morocco against Spain in the round of 16 of the World Cup in Qatar, in January on the social network Instagram and went to his house on Saturday in a chauffeured car reportedly set up by the player.
The same police allege that Hakimi kissed women and then touched her without her consent before raping her. At some point, she managed to push him away, and she asked a friend to come and pick her up.
Ashraf Hakimi joined PSG in 2021 from Inter Milan. Considered one of the best right-backs in the world, he was part of the team that won the FIFA Team of the Year 2022 award, announced on Monday in Paris.