Moped-Style E-bikes : euybike s4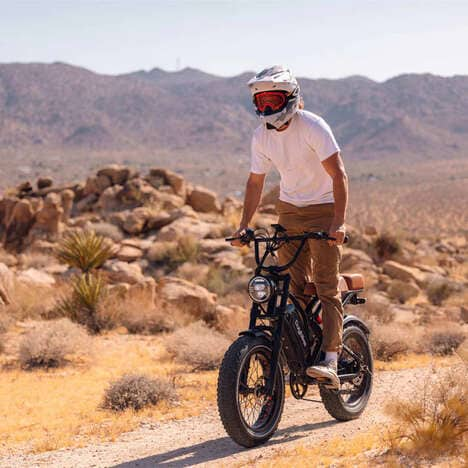 The S4 Long-Range ebike from Euybike is a moped-style electric bike that combines a stylish design with high-quality build materials and components. Its robust construction and attention to detail make it a reliable and enjoyable option for long journeys and everyday commuting. The S4 features a full suspension system, a thick, padded seat, and knobby fat tires that provide a smooth and comfortable ride on any terrain. The bike also has a level LED bright headlight circle, a mid-mounted shock absorption, and hydraulic brakes that enhance its safety and performance.
The S4 is powered by a 1000W rear-hub motor that delivers thrilling rides using both throttle and pedal assist. The bike can reach speeds of up to 31 mph and has an adjustable 5-level pedal assist system that allows the rider to customize their riding experience. The bike also has a 48V 25Ah lithium battery that can last for up to 75 miles on a single charge, depending on the mode of use. The S4 has a black-and-white LCD display that shows the speed, battery level, odometer, and other settings. The bike also has a settings menu that can adjust the speed, throttle, motor engagement, and more. The S4 is currently priced at around $1500, which is an awesome value for its features and capabilities. The bike is available on the Euybike website and can be shipped to the US for free.
Image Credit: Euybike