Meloni Responds to Migrant Crisis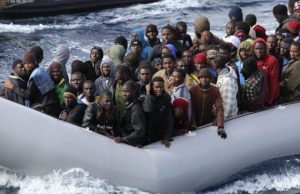 Italian PM Giorgia Meloni announced that Italy will begin cracking down on illegal immigration in the wake of the Lampedusa invasion. The small fishing island of Lampedusa in Sicily has seen its population double this month after countless African migrants arrived on shore. Meloni promised a tough stance on migration during her campaign yet illegal immigration to Italy has doubled in the past year. EU Commission President Ursula von der Leyen went to Sicily with Meloni to discuss the situation.
To curtail the flow of refugees, the Italian government will not detain illegal migrants for up to 18 months. "We will decide who comes to the European Union, and under what circumstances. Not the smugglers," Von der Leyen said. The EU under former German Chancellor Angela Merkel opened up the floodgates of refugees many years ago when claiming Europe was a safe haven for asylum seekers. People from throughout the second and third world have since found their way to Europe. Other EU nations are looking at the situation in Italy and realizing their borders will be next.
French interior minister Gerald Darmanin said that it is France's responsibility to "help our Italian friends." It is also their responsibility to let those wishing to illegally enter Europe that they are not welcome. ''Our will is to fully welcome those who should be welcomed, but we should absolutely send back those who have no reason to be in Europe," he said, noting that there was no particular reason for these people to claim political asylum.
I mentioned that these migrants are primarily military-aged men traveling alone. They are using an old military strategy where they dock their boats in rapid succession to overwhelm the Italian coastguard. There is more to this situation and a reason that the first world is being bombarded with migrants. The Italian Navy may be deployed to guard the waters with North Africa if the crisis worsens. "It does not make sense to trust traffickers, because they will take a lot of money, put you on a boat that is unfit for the journey and once you get here you will be detained and sent back," Meloni pleaded.