Mediterranean alert: NGO loses contact with 47 'panic' migrants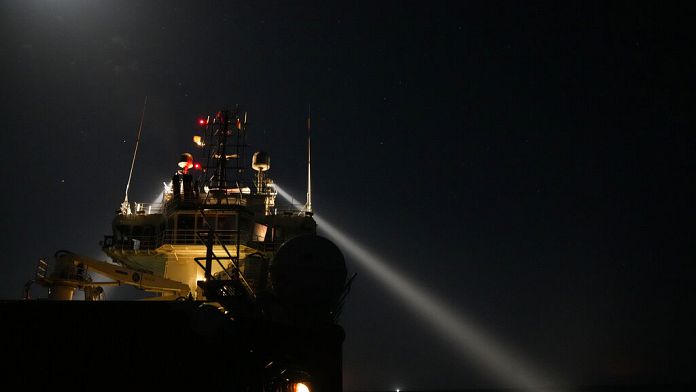 The Alarm Phone group says it lost contact with a ship carrying 47 stranded migrants in the middle of the Mediterranean Sea after it alerted the Libyan coast guard.
"People on board are in a panic. They scream on the phone and it's hard for us to communicate with them. They must be rescued without further delay!" said an NGO that serves as a hotline for refugees facing problems at sea.
Alarm Phone has traditionally put pressure on rescue teams to prevent boat pushbacks and human rights abuses against migrants making the dangerous Mediterranean crossing.
Typically, if the Coast Guard does not follow through, the group tries to mobilize search and rescue operations under public pressure.
If all else fails, the group says they are trying to alert cargo ships and commercial ships in the vicinity.
On Saturday evening, an NGO reported that an oil tanker was heading towards passengers in distress who were trying to cross the sea from Libya, but suggested that if migrants were found on board, they might be forced to turn around.
"We fear that this will bring people back to Libya. They need to be taken to a safe place, and not to the terrible conditions of Libya."
While the Libyan Coast Guard told Alarm Phone that Italian authorities would be coordinating the search mission, they did not release any information.
Alarm Phone warned that due to "extremely hazardous" weather conditions, passengers on board must be rescued as soon as possible.
This latest warning follows a march in the Italian city of Cutro on Saturday to commemorate the victims of a Feb. 26 shipwreck that killed 75 migrants.
The demonstration of solidarity attracted thousands of protesters.
Meanwhile, European Border and Coast Guard Agency Frontex said crossings in the dangerous central Mediterranean more than doubled in the first two months of this year, with more than 28,000 irregular crossings.
Almost 14,000 illegal crossings were discovered last month alone, just over a year ago.