Market Talk – March 17, 2023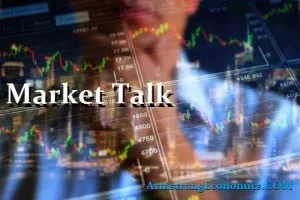 ASIA:
CRISIL expects India's Gross Domestic Product (GDP) growth to reach 6% in FY2024, compared to 7% estimated by the National Statistics Office (NSO) for FY2023. Consumer inflation is expected to ease to 5.0% on average in FY24 from 6.8% in FY23 due to the high base effect and some lower oil and commodity prices. A good rabi harvest will help bring down food inflation, and a slowdown in the economy should dampen core inflation.
Major Asian stock markets had a green day today:
The NIKKEI 225 rose 323.18 points, or 1.20%, to trade at 27,333.79.
Shanghai added 23.65 points, or 0.73%, to 3250.55.
Hang Seng rose 314.68 points, or 1.64%, to 19,518.59.
The ASX 200 rose 29.30 points, or 0.42%, to 6,994.80.
Kospi rose 17.78 points or 0.75% to 2395.69.
SENSEX increased by 355.06 points or 0.62% to 57,989.90.
Nifty50 increased by 114.45 points or 0.67% to 17,100.05.
Today was a mixed day for the major Asian currency markets:
AUD/USD rose 0.00214 or 0.32% to hit 0.66754.
NZDUSD rose 0.00506 or 0.82% to hit 0.62456.
USDJPY fell 1.704 or -1.27% to hit 132.016.
USDCNY edged down 0.00374 or -0.05% to hit 6.89086.
Precious metals:
Gold has risen in price by $40.49/t. or 2.11% before 1959.61
Silver has risen in price by $0.481/t. ounce or 2.22% to 22.191
No economic news from last night:
Some economic news for today:
China:
FDI decreased from 14.5% to 6.1%
Japan:
The activity index in the service sector (MoM) increased from -0.4% to 0.9%.
India:
Foreign exchange reserves in US dollars decreased from 562.40 billion to 560.00 billion US dollars.
EUROPE/EMEA:
The Bank of England is set to decide next week whether to end long-term interest rate hikes or raise them again, possibly for the last time, despite investor worries about how banks in the US and Europe are coping with higher borrowing costs. In February, the Bank of England signaled a pause was coming, with most economists polled by Reuters this week saying they were likely to opt for an 11th straight rate hike on Thursday, marking the end of a tightening cycle that began in late 2021.
There was a negative day on the main European stock markets:
CAC 40 fell 100.32 points or -1.43% to 6,925.40.
The FTSE 100 was down 74.63 points, or -1.01%, at 7,335.40.
The DAX 30 was down 198.90 points, or -1.33%, at 14,768.20.
Today was a mixed day in the major European currency markets:
EURUSD rose 0.00407 or 0.38% to hit 1.06457.
GBPUSD rose 0.00344 or 0.28% to hit 1.21414.
USDCHF shed 0.00058 or -0.06% to hit 0.92852.
Some economic news from Europe today:
euro area:
Core CPI (YoY) (February) increased from 5.3% to 5.6%
CPI (MoM) (February) increased from -0.2% to 0.8%
CPI (YoY) (February) down from 8.6% to 8.5%
Eurozone wages (YoY) (Q4) increased from 3.00% to 5.10%
USA/AMERICA:
Joe Biden points to bank executives for last week's string of bank failures. Biden proposes punishing leaders who "contributed to the collapse of their institutions." Such a move is not currently permitted by US law, and Biden is asking Congress to make changes to expand the powers of the FDIC. The President would also like to completely ban the heads of banks under competitive management from working in the banking sector. "When banks fail due to mismanagement and excessive risk, it should be easier for regulators to seek compensation from executives, impose civil sanctions and again ban executives from the banking industry," the president said.
Unemployment continued to decline this week after US new claims fell by 20,000. The seasonally adjusted figure was 212,000, higher than expected of 205,000. Thirty-five US states reported a decline
US Market Closing:
The Dow was down 384.57 points, or -1.19%, at 31,861.98.
The S&P 500 was down 43.64 points, or -1.1%, at 3916.64.
The Nasdaq fell 86.76 points or -0.74% to 11,630.51.
Russell 2000 fell 45.34 points or -2.56% to 1725.9.
Closing the Canadian Market:
The TSX Composite dropped 151.29 points, or -0.77%, to 19,387.72.
The TSX 60 was down 10.06 points, or -0.86%, at 1164.4.
Brazil Market Closing:
Bovespa fell 1,453.13 points, or -1.4%, to 101,981.53.
ENERGY:
Oil markets have had a mixed day today:
Crude oil fell $1,754/bbl, or -2.57%, to $66,596.
Brent fell by 1.979 dollars per barrel. or -2.65% to 72.721.
Natural gas fell $0.1465/mbtu, or -5.83%, to 2.3675.
Gasoline fell $0.0196/gallon or -0.78% to $2.4839.
Heating oil rose $0.0369/gallon, or 1.40%, to $2.6804.
The above data was collected around 11:58 AM EST on Friday.
Commodity growth leaders: gold (2.11%), silver (2.22%), lumber (3.08%) and cocoa (3.16%).
The main commodities losers were palladium (-2.06%), natural gas (-5.83%), Brent (-2.65%) and crude oil (-2.57%).
The above data was collected around 12:11 pm EST on Friday.
BONDS:
Japan 0.370% (+8.2 bp), US 2 3.94% (-0.195%), US 10 3.4118% (-17.12 bp); US 30 3.61% (-0.099%), bonds 2.089% (-15.4 bp), France 2.663% (-14.3 bp), Italy 4.037% (-13.2 bp), Turkey 11.10% (+2 bp), Greece 4.142% (-10 bp), Portugal 3.048% (-14.4 bp); Spain 3.214% (-14bp) and UK gilts 3.264% (-16.2bp).