Market Talk – March 16, 2023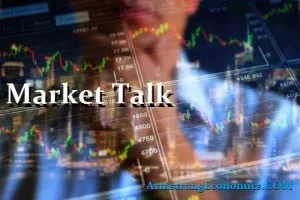 ASIA:
Asia was an exception for Inditex, owner of Zara, last year, the only region where profits fell as China faced a COVID-19 lockdown, while profits soared in America, the fashion retailer's annual report showed on Thursday. Inditex, the world's largest fashion retailer, reported record annual sales on Wednesday. It is expanding in the United States and shrinking in China, which was the second largest market after Spain in 2019, accounting for 8% of the group's pre-tax profits. The company generated a pre-tax profit of €105 million ($111.31 million) in China in fiscal year 2022, which ended January 1, 2022. December 31, 2023, down 47% from the previous year. China's share of total profit before tax fell to 2% from 4.7% the previous year. The United States, which generated just 1.1% of Inditex's pre-tax profit in 2018, accounted for 7.9% of pre-tax profit in 2022. The Americas as a whole generated €1.1 billion in profits, representing 21% of the group's total.
India on Thursday approved an $8.5 billion purchase of missiles, helicopters, artillery pieces and electronic warfare systems in a bid to bolster its military. The Defense Acquisition Council (DAC), the government's top investment approval body for the Indian armed forces, has approved orders worth 705 billion rupees ($8.52 billion) for all its services, the defense ministry said in a statement. All orders will be placed with Indian companies, the report said, in line with Prime Minister Narendra Modi's government's push to increase domestic defense production.
Today was a mixed day for major Asian stock markets:
The NIKKEI 225 was down 218.87 points, or -0.80%, at 27,010.61.
Shanghai fell 36.42 points or -1.12% to 3226.89.
Hang Seng fell 335.96 points or -1.72% to 19,203.91.
The ASX 200 was down 103.40 points, or -1.46%, at 6,965.50.
Kospi fell 1.81 points or -0.08% to 2,377.91.
SENSEX increased by 78.94 points or 0.14% to 57,634.84 points.
Nifty50 increased by 13.45 points or 0.08% to 16,985.60.
Today was a mixed day for the major Asian currency markets:
AUD/USD rose 0.00369, or 0.56%, to hit 0.66519.
NZDUSD fell 0.00148 or -0.24% to hit 0.61692.
USDJPY rose 0.16 or 0.12% to hit 133.560.
USDCNY rose 0.01159 or 0.17% to hit 6.90449.
Precious metals:
Gold fell by $0.63/t. or -0.03% to 1,917.47
Silver fell by $0.207/t. ounces or -0.95% to 21,578
Some economic news from last night:
Japan:
The adjusted trade balance increased from -1.82 trillion to -1.19 trillion.
Exports (YoY) (February) increased from 3.5% to 6.5%
The trade balance (February) increased from -3,498.6 billion to -897.7 billion.
Australia:
The change in employment (February) increased from -11.0 thousand to 64.6 thousand.
Full change in employment (February) increased from -42.4 thousand to 74.9 thousand.
The unemployment rate (February) decreased from 3.7% to 3.5%.
New Zealand:
GDP (QoQ) (Q4) decreased from 1.7% to -0.6%
Some economic news for today:
Japan:
Industrial Production (MoM) (Jan) Down from 0.3% to -5.3%
Hong Kong:
The unemployment rate (February) decreased from 3.4% to 3.3%.
EUROPE/EMEA:
The dollar fell and the euro rose on Thursday after the European Central Bank hiked interest rates as planned despite market turmoil in recent days, a sign that the Federal Reserve will also raise rates next week as both countries continue to contain inflation. The dollar and euro held tight ranges before the ECB announced a half-percentage rate hike as promised to curb inflation, with markets estimating more than an 80% chance that the Fed would raise rates by a quarter point on March 22.
Major European stock markets had a green day:
CAC 40 increased by 140.01 points or 2.03% to 7,025.72.
The FTSE 100 rose 65.58 points, or 0.89%, to 7,410.03.
The DAX 30 was up 231.84 points or 1.57% at 14,967.10.
Today was a mixed day in the major European currency markets:
EURUSD rose 0.00267 or 0.25% to hit 1.06017.
GBPUSD rose 0.00395 or 0.33% to hit 1.21045.
USDCHF shed 0.00189 or -0.20% to hit 0.93111.
Some economic news from Europe today:
Italy:
Italian CPI (MoM) (February) rose from 0.1% to 0.2%.
euro area:
Deposit line rate (March) increased from 2.50% to 3.00%
The ECB margin credit line has been increased from 3.25% to 3.75%.
ECB interest rate decision (March) raised from 3.00% to 3.50%
USA/AMERICA:
US retail sales slowed 0.4% in February this year, according to the US Census Bureau. Americans are starting to spend less as inflation rages. Grocery prices rose 10.2% on a rolling 12-month basis from 11.3% in January, while food spending remained relatively flat on a monthly basis. Forbes reported that consumers are choosing products from grocery brands. Kroger recorded a 10.1% increase in private label food sales. Rodney McMullen, CEO and Chairman of the Board of Kroger, claims that branded store products can save consumers 7% to 10%. The 12-month moving index Shelter rose 8.1%, the biggest increase in 40 years. Housing prices accounted for 70% of the index of all items in February.
US Market Closing:
The Dow rose 371.98 points, or 1.17%, to 32,246.55.
The S&P 500 rose 68.35 points, or 1.76%, to 3960.28.
The Nasdaq rose 283.23 points, or 2.48%, to 11,717.28.
Russell 2000 advanced 25.29 points or 1.45% to 1771.24.
Closing the Canadian Market:
The TSX Composite added 160.17 points, or 0.83%, to trade at 19,539.01.
The TSX 60 edged up 9.34 points or 0.8% to hit 1174.46.
Brazil Market Closing:
Bovespa added 759.21 points, or 0.74%, to 103,434.66 points.
ENERGY:
It was a green day in the oil markets today:
Crude oil rose $1.159/bbl, or 1.71%, to $68.769.
Brent rose $1.201/bbl, or 1.63%, to $74.891.
Natural gas rose $0.0934/mmbtu, or 3.83%, to 2.5324.
Gasoline rose $0.0529 a gallon, or 2.17%, to $2.4913.
Heating oil rose $0.0256/gallon, or 0.98%, to $2.6305.
The above data was collected around 13:45 EST on Thursday.
Commodity growth leaders: natural gas (3.83%), gasoline (2.17%), lumber (26.22%) and cocoa (2.78%).
The main losers were bitumen (-7.82%), lean pigs (-5.30%), methanol (-2.54%) and HRC steel (-2.87%).
The above data was collected around 13:55 EST on Thursday.
BONDS:
Japan 0.288% (-4 bp), USA 2 4.15% (+0.178%), USA 10 3.5752% (+8.12 bp); US 30's 3.71% (+0.019%), Bunds 2.274% (+15.6 bp), France 2.818% (+13.2 bp), Italy 4.178% (+7.7 bp), Turkey 11.08% (+9 bp), Greece 4.252% (-0.7 bp), Portugal 3.242% (+14.8 bp); Spain 3.372% (+12.2 bp) and UK gilts 3.425% (+10.5 bp).