Market Talk – March 13, 2023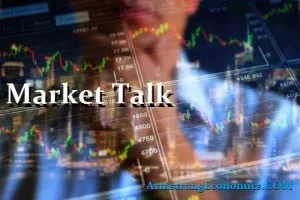 ASIA:
According to UBS AG, China's efforts to ramp up lithium production could see it account for almost a third of the world's supply by mid-decade. The bank expects Chinese-controlled mines, including projects in Africa, to increase production to 705,000 tons by 2025 from 194,000 tons in 2022. % last year, according to a note on Friday. The race to secure lithium is being played out at the highest level, with countries including the US prioritizing access to the materials needed to make batteries as the world moves away from fossil fuels. China's needs are particularly acute because it is home to the world's largest market for new energy vehicles. China's production growth will include an increase in production of material derived from lepidolite, a lithium-bearing rock that is often overlooked as low quality and environmentally unfriendly due to its low yield and high energy costs. UBS estimates that China's lepidolite will account for 280,000 tons of lithium in 2025, or 13% of global supply, up from 88,000 tons last year, as the government continues to support the sector. Beijing has already taken steps to curb unlicensed lepidolite mining in Jiangxi province, a major mining center, as it seeks to tighten control over its deposits.
Today was a mixed day for major Asian stock markets:
The NIKKEI 225 was down 311.01 points, or -1.11%, at 27,832.96.
Shanghai added 38.62 points, or 1.20%, to 3268.70.
Hang Seng rose 376.05 points or 1.95% to 19,695.97.
The ASX 200 was down 35.90 points, or -0.50%, at 7,108.80.
Kospi rose 16.01 points or 0.67% to 2410.60.
SENSEX was down 897.28 points or -1.52% to 58,237.85.
Nifty50 fell 258.60 points or -1.49% to 17,154.30.
Today was a mixed day for the major Asian currency markets:
AUD/USD rose 0.00993, or 1.51%, to hit 0.66763.
NZDUSD rose 0.00972 or 1.58% to hit 0.62342.
USDJPY fell 1.67 or -1.24% to hit 133.310.
USDCNY edged down 0.09561 or -1.38% to hit 6.84249.
Precious metals:
Gold rose to $36.93/t. or 1.98% up to 1904.76
Silver has risen in price by $1.27/t. ounce or 6.19% to 21.780
Some economic news from last night:
Japan:
BSI Large Production Conditions (Q1) decreased from -3.6 to -10.5.
Some economic news for today:
India:
CPI (YoY) (February) decreased from 6.52% to 6.44%
EUROPE/EMEA:
Economists polled by Reuters said the European Central Bank's interest rate peak would be much higher than anticipated just a month ago, adding that stubbornly high inflation would force policymakers to act more aggressively. After noting a 50 basis point rise next week at the previous Board of Governors meeting, ECB President Christine Lagarde doubled down on Sunday and said a rise was "very, very likely." Medians in the survey showed the eurozone central bank added 25 basis points in the next three meetings in May, June and July to get the term deposit rate at 3.75%, higher than the 3.25% peak expected in the February survey. . Eurozone inflation: In February, it topped the expected 8.5% and was more than four times the bank's target of 2%, which is projected to fall but remain above the target until at least 2025.
There was a negative day on the main European stock markets:
CAC 40 fell 209.17 points or -2.90% to 7,011.50.
The FTSE 100 was down 199.72 points, or -2.58%, at 7,548.63.
The DAX 30 was down 468.50 points, or -3.04%, at 14,959.47.
Today was a mixed day in the major European currency markets:
EURUSD rose 0.00822 or 0.77% to hit 1.07252.
GBPUSD rose 0.0122 or 1.01% to hit 1.21500.
USDCHF shed 0.01017 or -1.10% to hit 0.91103.
USA/AMERICA:
Banks across the US have reached out to depositors to reassure them of the safety of their assets after three bank failures last week. This Monday, the Dow posted its fifth straight day of losses. The Treasury and the Federal Deposit Insurance Corporation issued a joint statement to ensure Silicon Valley Bank depositors that their insured deposits will be available today. The Fed is implementing a new program, the Term Bank Facility, to guarantee deposits. The disasters of the past week have left many wondering what the Federal Reserve will do at its upcoming meeting. The general consensus is that rates will still go up, but most are betting 25 basis points up from 50 base points. Some, like Goldman Sachs, no longer expect central banks to raise rates at all.
US Market Closing:
The Dow dropped 90.5 points or -0.28% to 31,819.14.
The S&P 500 was down 5.83 points, or -0.15%, at 3855.76.
The Nasdaq added 49.96 points, or 0.45%, to 11,188.84.
Russell 2000 fell 28.4 points or -1.6% to 1744.3.
Closing the Canadian Market:
The TSX Composite was down 186.02 points or -0.94% at 19,588.9.
The TSX 60 was down 11.98 points, or -1.01%, at 1177.64.
Brazil Market Closing:
Bovespa was down 496.84 points, or -0.48%, at 103,121.36.
ENERGY:
Oil markets have had a mixed day today:
Crude oil fell by $0.999/bbl. or -1.30% to 75.681.
Brent fell $0.974/bbl, or -1.18%, to $81.806.
Natural gas rose $0.1506/mmbtu, or 6.20%, to 2.5806.
Gasoline fell $0.0389/gallon or -1.47% to $2.6069.
Heating oil rose $0.004 a gallon, or 0.14%, to $2.7769.
The above data was collected around 12:18 pm EST on Monday.
Commodity growth leaders: natural gas (6.20%), palladium (5.63%), silver (6.19%) and platinum (3.96%).
The main losers were HRC steel (-2.05%), lumber (-1.52%), rhodium (-4.12%) and coffee (-3.98%).
The above data was collected around 12:24 pm EST on Monday.
BONDS:
Japan 0.311% (-8.1 bp), USA 2 4.17% (-0.414%), USA 10 3.5110% (-18.4 bp); US 30 3.63% (-0.074%), bonds 2.271% (-22.5 bp), France 2.816% (-19.8 bp), Italy 4.192% (-13.2 bp), Turkey 10.95% (-42 bp), Greece 4.296% (-2.6 bp), Portugal 3.229% (-16.1 bp); Spain 3.375% (-17.1 bp) and UK gilts 3.396% (-24.6 bp).