Mariah Carey congratulated her twins Moroccan and Monroe on their 12th birthday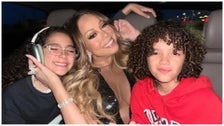 Mariah Carey's twins may be growing up, but the pop star says they'll "always be my kids."
On Sunday, the Grammy-winning singer tweeted a precious tribute to her twins, Moroccan and Monroe, on their 12th birthday.
Along with her greeting, Carey also shared a series of photos of her "babies," including a cozy shot of the trio posing in the back of a car and photos of the twins when they were younger.
"I thank God for you every day! "Our love is supernatural!!!" Oh dear ones, because you will ALWAYS be my babies!!!" the 54-year-old added, deftly nodding to her 1995 hit "Always Be My Baby."
The hitmaker shares Monroe and Morocco with her ex-husband Nick Cannon, whom she got married in 2008. The couple finalized their divorce in 2014, calling it annulled after six years of marriage.
"It's all about love," the TV presenter said at the time during an interview with Amazon's Style Code Live. "You put children first, but when you realize that you have unconditional love for these people and want a better existence for them, then you put aside any differences that you might have had."
"Often when you think about breaking up a relationship, it usually comes down to ego," Cannon said. "And if you can take your ego out of it and do it for your loved ones, then that's what it's all about."