Macron launches 500-day countdown to Paris 2024 Olympics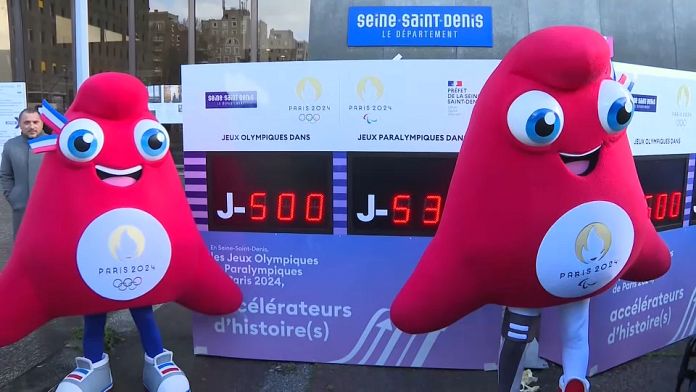 French President Emmanuel Macron launched the 500-day countdown to the 2024 Olympic and Paralympic Games in Paris on Tuesday, briefing the public on his government's hopes for the Games, including the ambitious use of the Seine.
Macron delivered a "thank you" speech to hundreds of officials at Paris police headquarters, saying that while plans are moving forward, "nothing should be taken as a guarantee."
"All we have left is 500 short days that separate us from extraordinary events like the Olympic and Paralympic Games (where) we are going to take over the world," Macron said.
In a speech and on Twitter, Macron thanked the 45,000 volunteers who have mobilized to make the Games a "success" and trumpeted again about the 5,000 new sports venues being worked on. Officials are pushing to get infrastructure and sites ready in time, and many Parisian boulevards have a number of projects.
Make the Seine seaworthy
Macron also mentioned an ambitious €1.4 billion scheme to clean up the polluted waters of Paris's main river artery.
"The Seine and the Marne (rivers) will become navigable," he said.
Several events are planned on the Seine, including a 10-kilometer swimming marathon, a reflection of the first Parisian Olympics in 1900.
Macron also hopes to break with tradition by hosting an opening ceremony on the water, as part of an ambitious plan to see ships sail down the Seine at the Eiffel Tower in front of millions.
Huge demand for tickets
The budget for the Paris games is 4.4 billion euros, according to a spokesman for the Champs Elysees, who spoke on condition of anonymity, in line with the usual practice of the French presidency.
"The first round of ticket sales is encouraging," said an Elysee spokesperson. He added that the huge demand for tickets during the first round of sales earlier this month, when more than 3 million tickets were sold, had given Macron confidence that funding for the Paris games was on track.
Macron has yet to comment on Ukraine's call for a complete ban on Russian and Belarusian athletes.