Macron called on NATO for "tangible" security guarantees for Ukraine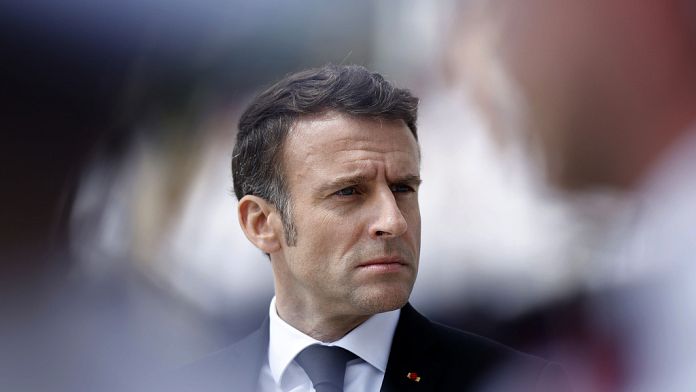 French President Emmanuel Macron on Wednesday urged the West to provide Ukraine with "tangible and credible" security guarantees as it fights against a Russian invasion.
Emphasizing that Ukraine "today is protecting Europe," Macron said in Bratislava that it is in the West's interests for Kyiv to receive security guarantees from NATO.
"That's why I'm in favor, and this will be the subject of collective bargaining in the coming weeks … to offer Ukraine material and credible security guarantees."
He said various NATO members could provide those guarantees for now, while Ukraine waits to join the alliance.
Macron added: "We have to build something between security given to Israel and full membership."
The head of the French state is on a visit to Slovakia, where he spoke at an event organized by the analytical center for international affairs Globsec.
The event dedicated to regional security issues is taking place on the eve of the NATO summit in the Lithuanian capital Vilnius on July 11-12.
Macron recalled that he once called the Western defense alliance "brain dead" but said last year's Russian invasion "shaken NATO".
"Today we need to help Ukraine by all means to carry out an effective counter-offensive" against Russian troops, Macron said.
"This is what we are currently doing. We must intensify our efforts, because what happens in the next few months offers a chance even for… lasting peace."
Macron also called on EU countries to buy European weapons and acquire deep strike capabilities.
"It depends on us Europeans whether we can protect ourselves in the future," he said.
"A Europe of Defense, a European pillar within NATO, is needed. This is the only way to earn trust… in the long run," he said.
Macron will next visit Moldova on Thursday, where he will meet with other European leaders, including those from outside the European Union.