Leaders of Japan and South Korea meet to restore relations and strengthen regional security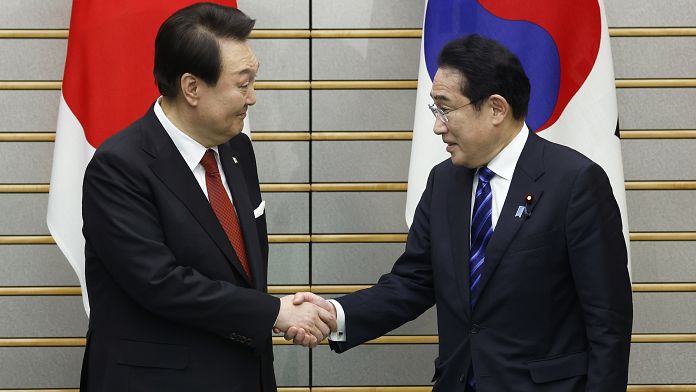 Japan and South Korea are taking important steps to improve relations after historic disputes and restore their countries' security and economic ties.
Japanese Prime Minister Fumio Kishida and South Korean President Yoon Suk-yeol met Thursday in Tokyo as North Korea launched a missile and Japanese and Chinese ships collided in disputed waters.
Hours before the long-awaited summit that day, the two countries reached an agreement to restore trade ties and agreed to resolve a longstanding trade dispute. South Korea's Commerce Minister Lee Chang Yang said Japan had agreed to lift export controls in South Korea following talks this week and that South Korea would withdraw its complaints to the World Trade Organization over Japanese restrictions.
Opening a new chapter in international relations
Japan and South Korea have a long, painful history of controversy over the Japanese colonization of the Korean Peninsula in 1910 and the atrocities committed by Japanese soldiers during World War II, including forcing Korean women into prostitution as "comfort women" for the occupying army. There were also territorial disputes over the group of islands.
Relations hit rock bottom when the South Korean Supreme Court ordered Japanese companies to pay compensation to Korean survivors in 2018, and soon after, Japan imposed trade sanctions on South Korea.
The two countries are now seeking to form a united front with their common ally, the US, driven by shared fears about North Korea and an increasingly powerful China.
South Korea's Ministry of Commerce said the countries will continue to discuss restoring each other to preferred trading status following each other's downgrade in 2019.
Other key questions at the first two-country summit in Japan since 2011 are how Kishida will respond to Yun's concessions on forced labor compensation, and whether the two countries will resume defense dialogues and regular visits from leaders.
North Korea and China, Mutual Causes of Concern
North Korea's state media announced on Wednesday that the country had conducted a new missile exercise that South Korea discovered the day before.
Pyongyang tested two short-range ballistic missiles in a show of force just a day after Washington and Seoul began military exercises that Kim Jong Un sees as a rehearsal for an invasion.
Missiles launched from the southwestern coastal city of Jangyong flew over North Korea before landing in the sea off that country's east coast, South Korea's Joint Chiefs of Staff said in a statement.
The US Indo-Pacific Command said Tuesday's launches do not pose an immediate threat to their allies.
But it says the North's recent tests underscore the "destabilizing impact" of the North's illegal weapons programs and that US security commitments to South Korea and Japan remain "ironclad."
Meanwhile, a dispute between China and Japan over tiny islands in the East China Sea escalated on Thursday as both sides accused the other of violating their maritime territory.
This came after Chinese coast guard ships entered the waters around a group of uninhabited islands that Japan controls and calls Senkaku, and which Beijing also calls the Diaoyu Islands. The islands are located to the north of Taiwan, which also considers them its own.
The summit also follows a series of Chinese diplomatic successes in regions traditionally seen as more susceptible to US influence.
The US is also making efforts to strengthen regional alliances. Washington has apparently been working on hosting today's summit, and on Thursday joint anti-submarine exercises began with South Korea and Japan, as well as Canada and India.