Krasnogorovka; Life on the front line of the Ukrainian war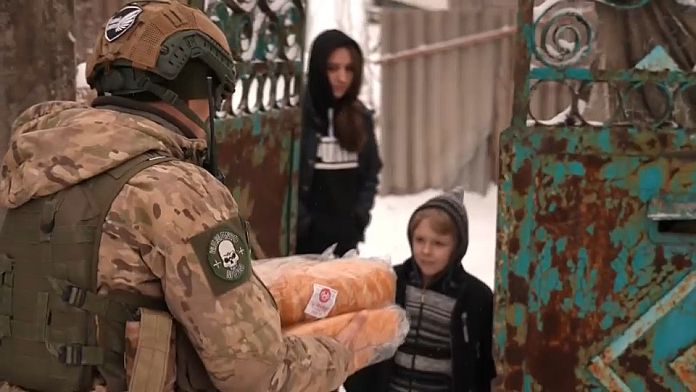 Ukrainian police "white angels" deliver bread and humanitarian aid to families clinging to lives and homes on the front lines.
After a year of war, Krasnogorovka may seem like a ghost town at first glance, but a handful of residents do not want to leave.
Oksana Pokmush said: "We live in our own houses. Why should we leave our houses? Why should I run? Let them (Russians) run away. my parents are buried. Why should I leave?"
The industrial city, founded at the end of the nineteenth century, is no stranger to conflict. Krasnohorivka was occupied by Nazi Germany for two years during World War II and was the scene of heavy fighting in 2014 when Ukrainian forces held it back from Russian-backed forces.
It has been on the front lines for the better part of a decade, and over the past 12 months it has come under artillery fire from Russian forces.
Many of those who lost their homes at the time took refuge in the city's hospital, whose building was also attacked.
Valentina Mozgova is the last doctor left there to treat patients. She said: "I don't understand. Why are they (Russians) shooting at hospitals, but at our houses? People are suffering. They probably want to kick us out of the city, from houses, from the hospital, so we will treat people. I keep wondering . I don't know.
Many of those who remained in the city are elderly people and do not want to leave their homes and memories, and this fact did not escape the attention of one of the White Angels, Maxim.
He said, "I can still create something, I can build it. And the old people who are already 70, 80 years old, when will they create all this? Their lives are over. Here, under these ruins, their life will remain here, because they have already lived it all. They will have no other life. Of course it's terrible, it's monstrous. This is a crime against humanity."
The city resigned itself to its fate. The Russians are getting closer and closer, and the delivery of humanitarian aid to Krasnogorovka is becoming more and more risky.