Kosovo Serbs urge calm as license plate scandal threatens to spark riots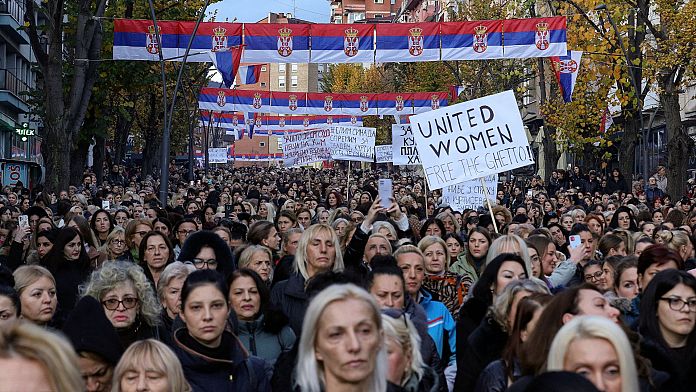 Thousands of Kosovo Serb women took to the streets of Mitrovica demanding an easing of tensions between Belgrade and Pristina as a dispute over car license plates threatens to spark riots.
The demonstrators protested against planned fines by the Kosovo authorities for those who refuse to change Belgrade-issued vehicle license plates and against the brutality they say they face on a daily basis at the hands of authorities in Pristina.
"We have had enough of all this," said one protester, adding that she wanted to live in peace.
Long-standing tensions between Serbia and its former province have flared up again in recent weeks over the Kosovo government's decision to ban Serbian license plates.
Kosovo, which is still not recognized by Serbia, wants about 10,000 Kosovo Serbs whose cars have Serbian license plates to replace them with those of the Republic of Kosovo.
The phased plan includes warnings, fines and eventually a driving ban for refusing to cross.
Both sides failed to reach a long-term agreement on this issue, despite mediation from both the EU and the US.
European Union chief diplomat Josep Borrell on Monday held lengthy talks with the leaders of Serbia and Kosovo and accused them of failing to resolve the dispute.
Some 3,700 NATO peacekeepers are still stationed in Kosovo, which declared independence in 2008. But now some fear that this stalemate could lead to sectarian violence between the two communities in the region.
Watch the video in the player above to learn more.