'King of Trash': Macron in danger amid tensions over pension plan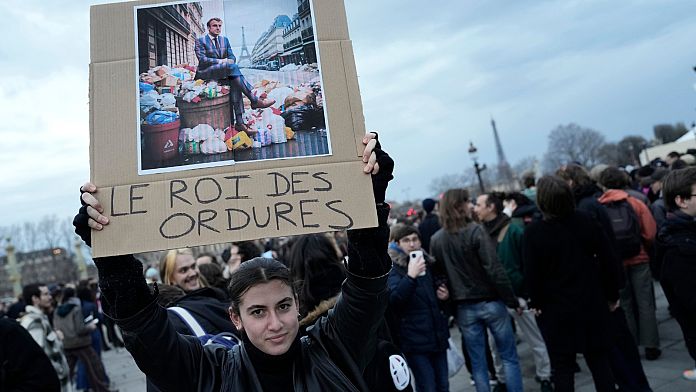 Parody photo that appeared on protest signs and online in France shows the president Emmanuel Macron sit on piles of rubbish. The image refers to the uncollected rubbish due to the sanitation workers' strike, as well as what many French people think of their leader.
Macron, 45, hoped his drive to raise the retirement age from 62 to 64 would cement his legacy as the president who transformed France's economy into the 21st century. Instead, his leadership is contested both in parliament and on the streets of major cities.
His brash move to push through a pension reform bill without a vote has infuriated political opposition and could prevent his government from passing the bill for the remaining four years of his term.
Demonstrators held up a parody photo of the protests after Macron on Thursday decided at the last minute to call on the government's constitutional authority to pass the bill without a vote in the National Assembly. Since then, he has remained silent on the subject.
Since Macron became president in 2017, he has often been accused of arrogance and lack of communication. Perceived as the "president of the rich", he sparked outrage by telling an unemployed man that he only had to "cross the street" to find work and suggesting that some French workers were "lazy".
Now Macron's government has alienated citizens 'for the long haul' using special powers under article 49.3 of the French constitution, it must introduce widely unpopular changes, said Brice Teinturier, deputy director general of the polling institute Ipsos.
According to Teinturier, the only winners in this situation are the far-right leader Marine Le Pen and her National Rally party, "which continues its strategy of 'achieving respectability' and opposing Macron," as well as the French trade unions. Le Pen came second behind Macron in the country's last two presidential elections.
As the rubbish piles get bigger and the smell intensifies, many in Paris are blaming Macron, not the striking workers.
Macron has repeatedly stated that he is convinced that the French pension system needs to be modified in order to provide funding. He says other proposed options, such as increasing an already heavy tax burden, would discourage investment, and that cutting the pensions of current retirees is not a viable alternative.
Public displays of discontent can strongly influence his future decisions. Spontaneous, sometimes violent protests that have erupted in Paris and across the country in recent days contrast with the largely peaceful demonstrations and strikes previously organized by France's main trade unions.
Macron's re-election to a second term last April solidified his position as a senior player in Europe. He campaigned in support of business, promising to solve the pension issue and stating that the French should "work longer".
In June, Macron's centrist alliance lost its parliamentary majority, although it still has more seats than other political parties. He said at the time that his government wanted to "make laws differently" based on compromises with a number of political groups.
Since then, conservative lawmakers have agreed to support some bills in line with their own policies. But tensions over the pension plan and widespread distrust between ideologically diverse parties could put an end to efforts to find a compromise.
Macron's political opponents in the National Assembly on Friday filed two votes of no confidence in the government of Prime Minister Elizabeth Bourne. Government officials are hoping to survive the vote on Monday's proposals because the opposition is divided and many Republicans are not expected to support it.
However, if the proposal is accepted, it will be a big blow for Macron: the pension bill will be defeated and his cabinet will have to resign. In that case, the president would need to appoint a new cabinet and find that his ability to push for legislation was weakened.
But Macron will retain significant powers over foreign policy, European affairs and defense. As commander-in-chief of the armed forces, he can decide on French support for Ukraine and other global issues without parliamentary approval.
France's strong presidential powers are the legacy of the general. Charles de Gaulle's desire to have a stable political system for the Fifth Republic, which he established in 1958.
The prime minister's future looks less certain. If the no-confidence vote fails, Macron could introduce a higher retirement age but try to appease his critics with a government reshuffle. But Bourne showed no signs of retreat.
"I am convinced that we will find good solutions that our country needs by continuing to seek compromises with workers' unions and employers' organizations," she said, speaking on the French television channel TF1 on Thursday. "There are many topics that we must continue to work on in Parliament".
Macron plans to propose new measures designed to bring France's unemployment rate down from 7.2% to 5% by the end of his second and final term.
Another option in the hands of the president is to dissolve the National Assembly and call early parliamentary elections.
That scenario seems unlikely so far, as the pension plan's unpopularity means Macron's alliance is unlikely to win a majority of seats. And in the event of the victory of the other party, he would have to appoint a prime minister from the majority faction, which would give the government the opportunity to pursue policies that are at odds with the priorities of the president.
Mathilde Panot, an MP for the leftist Nupes coalition, said sarcastically on Thursday that it was a "very good" idea for Macron to dissolve the Assembly and hold elections.
"I think this will be a good reason for the country to confirm that yes, they want the retirement age to be lowered to 60," Panot said. "Nupes is always ready to govern."
Le Pen said she too would welcome the "dissolution".