Kentucky lawmakers pass ban on gender-affirming youth care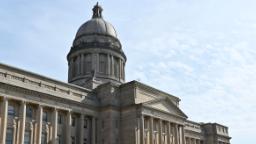 CNN
—

Republican lawmakers in Kentucky have passed legislation that bans transgender minors from receiving gender-affirming care, allows educators to misidentify students' gender, and bans schools from discussing sexual orientation or gender identity with students of any age.
The bill, if passed, would ban gender-confirmed care for minors, such as surgical procedures or the use of certain hormones, and call on health care providers to stop or set a time limit for stopping treatment for patients already receiving such care.
The emotional debate about gender-affirming care for transgender students has become a political flashpoint, especially among conservatives, as lawmakers across the country move forward. measures to restrict the rights of LGBTQ people.
Senate Bill 150 was delivered to the Governor's office. Andy Beshear, a Democrat who voiced his opposition to the measure. However, Republican legislators have a majority and can override the governor's veto.
Beshear, at a press conference earlier this month, chided the state legislature for focusing on the issue of culture wars and urged them to work on raising teachers' salaries and expanding health care for residents.
Beshear cited polls showing that most Kentuckians believe medical decisions about their children should be left to parents and their families.
"Here in Frankfurt, some legislators are throwing that away and saying, 'No, big government will tell you what is medically best for your children.' As a parent, I think this is wrong," Beshir said on March 2.
"When it comes to this question, voting doesn't matter to me because I think it's the right thing to do," a spokesperson for Pro Tempore Rep said. David Meade (right). "If we are going to protect children, we must ensure that surgery or drugs that will completely change their lives and bodies are not something that we must allow until they become adults who can choose it themselves. It's right for these kids."
The Kentucky chapter of the American Civil Liberties Union published statement stating that the legislation was "urgently passed to the House of Representatives following rushed committee hearings in which Kentucky transgenders pleaded and pleaded for their lives and access to intensive care for trans youth."
"SB150 includes a host of new laws that are some of the most extreme anti-trans attacks in the United States," the ACLU said in a statement. The Kentucky ACLU said it is "ready" to challenge the ban in court if it becomes law.
Trevor ProjectSuicide Prevention and Crisis Intervention for LGBTQ Youth, noted the prevalence of suicide deaths among LGBTQ youth.
"It's appalling to see Kentucky legislators so hastily work through dangerous legislation that will only harm young LGBTQ Kentuckians," said Troy Stevenson, director of state advocacy campaigns for the Trevor Project. "Last year, nearly half of LGBTQ youth in Kentucky seriously contemplated suicide—alarmingly, nearly one in four transgender and non-binary youths in the state attempted suicide. Our leaders are pushing political issues and sidestepping real issues like addressing the youth mental health crisis."