Ke Hui Quan talks about his parents' sacrifices after emotional Oscars speech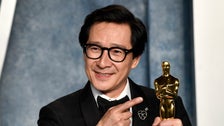 Oscar– winning actor Ke Hai Quan reflected on sharing his emotions with his parents 'on the biggest stage' on Sunday after his family's attempts to flee Vietnam in the 70s.
"I didn't understand why and what was happening. All I knew was that I was separated from my mother, from a younger brother and a couple of sisters. It was in the middle of the night when my father, my five siblings and I escaped by boat," he explained.
"We have to Hong Kong, and for a whole year I was in a refugee camp, surrounded by guards and police, until we were granted political asylum. Then I boarded a plane for the first time and landed at Los Angeles", he said of his arrival in 1979.
Quan told the publication that he "didn't have the maturity to accept the sacrifices" his parents made for a better future.
He added that fate decreed that he got a role in the 1984 film Indiana Jones and the Temple of Doom. Harrison Ford, who hugged quan when he and his cast of "Everywhere, All At Once" celebrated winning the Best Picture nomination.
The actor, whose father died in 2001, said he always wanted to thank his parents for their decision and finally got the chance to do so on Sunday.
"I grew up in a family where we just don't share our emotions with each other. Last night I wanted to do it in public," said Kuan, the second Asian Oscar winner for Best Supporting Actor.
"I wanted the world to know how much my parents meant to me. So to be able to do it on the biggest stage was amazing."