Jurassic Park star Sam Neill diagnosed with blood cancer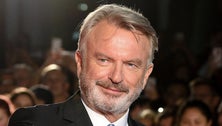 Sam Neill, the actor best known for his roles in the Jurassic Park franchise, has revealed that he is undergoing treatment for blood cancer.
Neil, 75, was diagnosed with angioimmunoblastic T-cell lymphoma after he experienced swollen glands while promoting "Jurassic World Dominion" last year, the publication reports.
The initial chemo eventually wore off, so he tried a new monthly drug, which then put him in remission.
"I am not off the hook per se, but there is no cancer in my body," Neal said.
The book project began when Neil "found I had nothing to do" during treatment, he told the Guardian. His diagnosis is a "spiral thread" throughout, but it is not a "cancer book," he insisted.
Writing the memoir "became a lifesaver" and gave him "a reason to live," he added. A book titled "Have I Ever Told You This?" — scheduled for release next week.
His next television appearance will be in the upcoming limited series Apples Never Fall with actress Annette Bening.