Judo veterans and former world champions succeed on the second day in Antalya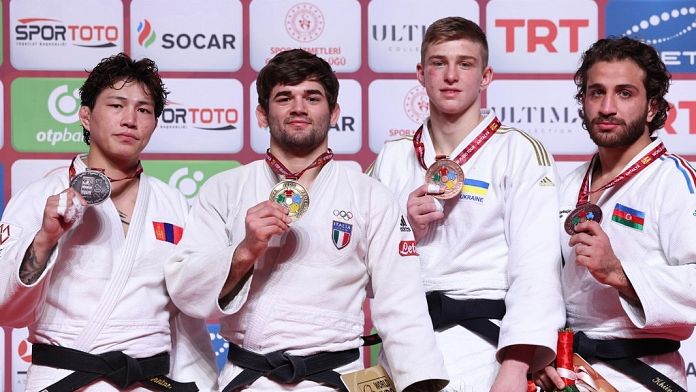 On the second day in Antalya, Turkish youth excitedly attended the IJF World Tour event, packed the Antalya Spor Salonu and waved their country's flags as they watched the athletes take to the huge Grand Slam stage.
In the 63 kg weight category, 2008 Olympic bronze medalist Catlane Cuadros proved that after 15 years she is still one of the best in her category. The buzzer reset technique allowed Ippon to earn less than a second to go.
She was overjoyed and celebrated with all the children present.
Mr. Moshe Ponte, President of the Israel Judo Association, presented the medals.
Italian Manuel Lombardo, who weighed less than 73 kg, went through the preliminary competition before defeating the reigning world champion.
He was awarded his medals by Mr. Mohammed Merijah, IJF Director of Education and Coaching.
In the weight category up to 70 kg, another world champion hoped for a better result, but she was opposed by a strong Japanese rival, Niizoe Saki.
The solid technique of makiomi puts the Japanese on top of the pedestal.
She was awarded the medal by Mr. Vladimir Barta, Chief Sports Director of the IJF.
"Barbara Matic is a very strong opponent and it was a difficult fight. I was very happy to fight her," said Niizoe.
Two former world champions met in the 81 kg weight category, Matthias Kasse and Said Mollaei. Flipping a pin on the ground, Kasse pinned Mollaei, taking the last World Tour gold available before the World Championships. Will he regain his title in Doha?
Great moment of respect between two great athletes.
IJF General Director Mr. Vlad Marinescu was present at the presentation of the medals.
"I gained a lot from my defeat in Paris here. And I will definitely take him to the World Cup. It was good to lose once again so that now we can come back stronger," Kasse said.
With so many young judokas supporting their home team, the local athletes couldn't help but put on some of the most exciting judo we've seen today. A wonderful series of attacks filled the stadium with applause and delight. Heavyweights tomorrow, not a day to miss.